Like most other bookworms, I have a hefty TBR that just seems to keep growing.
So instead of focusing on the big picture (that would be all 932938094 books I want to read), today I'm going to be sharing the top 10 books on my TBR pile! (The pile, in case you're wondering, is virtual. It's on Goodreads.) 🙂
I usually take my own pictures of books that I share here on Purely Olivia, but of course since I haven't read these yet I don't own them. So I'll be using images from the Internet- this is just a heads up that if you click on the image, it'll take you to the source I got it from! Always give credit. 😉
1. We Were Liars, by E. Lockhart
I've been wanting to read We Were Liars for a while now, but it's always checked out of my public library. I've heard a lot of different people recommend it, and the Goodreads summary is so intriguing! I have a feeling that I'm going to love this book.
2. The Sun is Also a Star, by Nicola Yoon
After reading Everything, Everything by Nicola Yoon (and enjoying it a lot!) I started to really want to read The Sun is Also a Star. I'm a sucker for a sweet YA romance…and that's what it seems to be.
I'm also interested to see, what does the title have to do with the story? Is it something I'll understand after I read the book? Hopefully so. 🙂
3. The Unexpected Everything, by Morgan Matson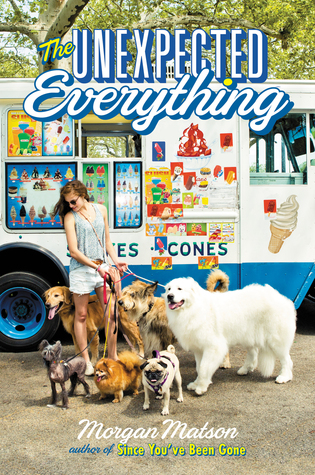 The Unexpected Everything has been on my TBR for a really long time now. But it's also checked out of the library! I guess that must means it's worth the wait? Because it's certainly in high demand.
I absolutely loved Since You've Been Gone, also by Morgan Matson, so that's one of the reasons I've been dying to read this book. AND it's set in summer! Even though summer's over now, reading summery books is the best.❤️ Summer YA romance books= my favorites.
4. Code Name Verity, by Elizabeth Wein
From the summary on Goodreads, I'm not entirely sure what Code Name Verity is about. However, I do know that it's set in World War 2 and that makes for a good book!
I really love reading WW2 historical fiction, and I've heard that Elizabeth Wein is an amazing author. Here's to hoping I can find Code Name Verity in a library soon!
5. I Am Number Four, by Pittacus Lore
First of all, does anyone else agree that looking at that cover is like looking at the sun? Because my eyes hurt ow.
But second of all, THIS BOOK. It has been on my TBR since practically the beginning of time (July 21, 2016- same difference) and I'm pretty sure I've seen it in the library about 93084509834.6 times and never checked it out for some reason.
I Am Number Four seems like it has such an intriguing plot. 9 superhumans are being hunted down by some evil force (the Goodreads summary refers to it as "them"), and getting killed one by one. The series starts with the superhuman who is #4- and numbers 1, 2, and 3 have already been killed.
See? How can I not want to read this book now? I have to know if #4 dies.
6. The Hate U Give, by Angie Thomas
I've been seeing The Hate U Give a lot lately, and I'm really eager to read it. The issues it brings are prominent in our world today, so it seems "with the times." (It was published in February 2017, so that makes sense).
I'm interested in getting to know the main character, Starr, better. As a teenager, she's already faced more than most adults (her close friend has been killed) and that should be really eye-opening for me to read. I can't wait to get my hands on this book!
7. Alex and Eliza, by Melissa de la Cruz
Guys. Alex & Eliza looks so good.
Any Hamilton fans out there? While I'll admit that I'm not a diehard-know-every-lyric-saw-it-on-Broadway kind of person, I've definitely heard of it. 😉
Well, this is the love story of Alexandar Hamilton, and his wife, Elizabeth Schuyler! Not only do I love romance novels, I love historical fiction. This book is looking like the best of both worlds to me. I can't wait to read it ahhhh.
So, that's what's on the top of my TBR pile right now! Have you read any of these, and what did you think of them? What's on your TBR pile? Let's chat in the comments!
* Before you go- a quick reminder that I am doing a Q&A two weeks from today! If you'd like to ask any questions and haven't done so yet, go comment them on this post. I can't wait!