October is my favorite month of the entire year.
And!! it's!! finally!! here!!
In today's post I'll be wrapping up September, with updates about books, my blog, and my real life! Also, I'll be doing lots of excited screaming about October because IT IS HERE and I am so happy. 😉
First of all, let's talk about books!
For most of the later end of summer, I was in a major reading slump. Luckily, I managed to pull out of it in the later part of September! I think it's because I went to the library and was able to get some books I was interested in reading, which really helped.
I haven't gotten around to reading all of these yet, but pictured above are the books I got from the library! Have you read any of them?
Since I didn't read much, I don't have much to say in the reading department this month. Hopefully there will be a lot more updates next time I do a monthly wrap-up!

Now, moving onto the blog section of this post! It was a good month of blogging for me, and I hope October is the same. 🙂
Posts I Did In September:
I've been getting more comments and likes lately, and I just wanted to say thank you very much! It means so much to me, and I love responding and getting to know you all. 😊
Posts I Really Enjoyed By Other Bloggers:
There were definitely a lot more that I just can't think of in the moment! Feel free to link any blog posts you really liked in the comments and I'll check them out.
ALSO, quick blogging rant- Picmonkey has changed its settings so you can only download the photos you edited if you pay?!? Thankfully, I found an alternate website, which is where I made this post's image. (Thank you, BeFunky.) Still, I am a little bit (maybe a little more than a little bit) angry at Picmonkey.
In real life, I am so busy.
I'm dancing a lot, which is making me happier than I can ever remember feeling, but I also have tons of homework and school and blogging and a life and I want to read and I have friends and a family and a faith life and I AM JUST SO BUSY.
I'm trying to slow down and get into a routine for finding time to do everything. And I'm taking deep breaths. That helps.
A Few Really Good Things That Happened in September:
My school had their homecoming dance, and I had so much fun taking pictures and going with my friends.
I had my first pumpkin spice frappuccino of the season.❤️
I ate a lot of good ice cream.
Taylor Swift had two singles come out, which has made my entire year kdjfdluceomceiwaumoaumf.
My grandmother came and visited and we celebrated her birthday, and my dad's birthday.
Now I'm looking forward to October!
October is my favorite month, guys. So many wonderful things always happen this time of year! It's my birthday month, the weather is beautiful, I love getting to start wearing sweaters and boots (well, sometimes it's way too hot where I live, but still), and just knowing that fall is here.
The arrival of fall means soon it'll be Halloween and Thanksgiving, and before we know it, Christmas! Though sometimes I find myself wishing for December to be here right now, I also love living through the slow-paced season of fall.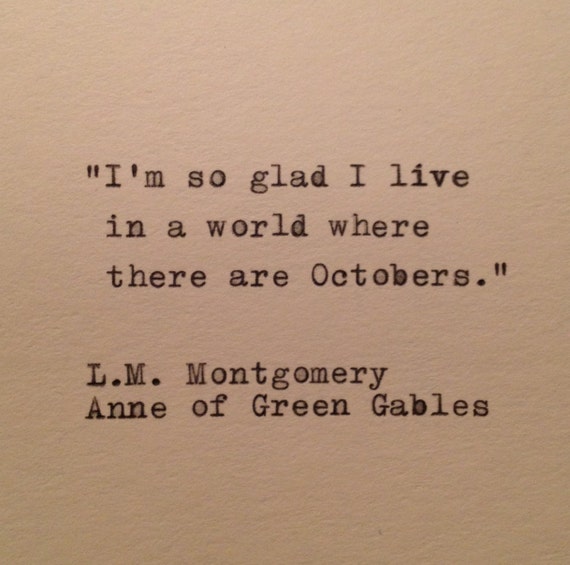 This quote is from one of my favorite books of all time, Anne of Green Gables, and it reflects my thoughts exactly. I love October, and I am so happy it's finally here!
A Few October Goals:
Read 8 books
Start a daily devotional
Get my left splits (for dance)
Write good quality blog posts for every Monday
Keep up with my 1 Second Every Day app each day of the month
Slow down and appreciate everything
Thank you for reading this slightly scatterbrained post! Since my schedule has been so jam-packed lately, I wasn't able to write this until the last minute…meaning it was a little crazy and unplanned! But, hopefully you can get a feel for how my September was and how excited I am for October. 😉
So, are you really pumped October is here, too? What's your favorite season? Tell me about your September- and what are your goals for the upcoming month? If you're a blogger who used Picmonkey, how are you editing your photos now?