I love bullet journaling.
A crucial step in my plan to taking over the world is helping everyone start a bullet journal. Okay, not really…but for real, I love them a lot. 😉 They're creative, they're helpful, they're so fun, and I bet the world would be a happier place if there were more bullet journals in it.
Today I'm going to be sharing 5 major benefits of bullet journaling (in hopes of convincing you all to start one) as well as sharing a quick peek (!!) into my July 2018 bullet journal spreads. Let's get right into it!
1. They're an amazing creative outlet
Everyone needs a creative outlet.
If you're reading this, chances you are have a blog and that's a creative outlet. 😉 But I love having multiple outlets, and my bullet journal is a great one.
It's a place where you can let out your thoughts, you can draw whatever you want, use whatever colors you want, and not have to worry about anyone else seeing it. It's completely for you, and that makes it the best creative outlet ever.
Maybe you're like me, and you're a perfectionist. It may seem like more of a task while you strive to get everything perfect, but remember that it doesn't have to be that way. No one is judging it- it's just for you and your creative side.
2. They keep you organized & productive
Bullet journals are often filled to the brim with calendars, weekly spreads, logs, to-do lists, goals…and the list goes on. They're the ultimate organization tool!
If I didn't have a bullet journal, I wouldn't set monthly goals, and if I didn't set monthly goals, I wouldn't accomplish nearly as much. Bullet journals are perfect because they allow you to have tangible goals that you can see. This will help you be more productive!
3. They're a great stress reliever
I don't know why there's so much stress in our lives…but there is. Jk I know why…*glares at school*
When I get stressed, I like to spend time in my bullet journal. It's so nice to spend hours coloring away and forgetting about everything that's stressing me out.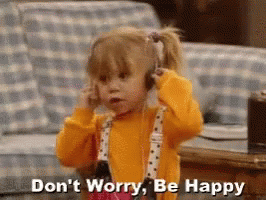 Actual footage of me bullet journaling and feeling the good vibes because of it…just kidding, just kidding. Kinda.
4. They're inexpensive 
Bullet journals are super inexpensive! In fact, it's likely that you have everything you need for one already.
All you need is a journal (or even just paper) of any type, that looks however you want. Then you need whatever supplies you'll be using to fill in the pages (pencils, pens, markers, crayons, colored pencils, stickers, washi tape, etc.). Since bullet journals are completely customizable, you can just use what you already have and there's no need to buy anything new.
5. It's so much fun!
And of course, at the end of the day, it boils down to the fact that bullet journaling can be so much fun. It's a great source of entertainment at any time.
I love bullet journaling, and it's fun for me. That's one of the best things about it. 🙂
And now, for the part of this post I've been looking forward to the most- actually sharing some spread from my bullet journal. 🙌🏼
You might remember the peek into my journal I did back in January, when I was first setting up my journal. I haven't been the best at keeping up with it since then, but I did decide to work really hard on my July spreads. They aren't perfect and I'm definitely not 100% satisfied with them, but that's okay.
Here's my title page- I kept it really simple, and in honor of the 4th of July being this month, my theme was American. I just realized how cool it would be a do a different country as your theme each month…
On the next page, I just wrote a quote (I need to work on my handlettering *tear*) from the song God Bless the USA- it's a quote that always makes me think of the 4th of July, so it seemed fitting. XD
The next page is where I put my July highlights and goals for the month. I decided not to do daily logs, because I always end up falling behind on those, and just do daily highlights so I'm more like to stay caught up.
The blogging page is my personal favorite! I'm trying to actually be organized this month and plan ahead (hence the white square covering up a future post 😉 ).
The other page is just some of my favorites for the month, and I attempted to draw the liberty bell but it…failed? Oh well. XD
And finally, I just have an empty notes page all prepared. This is a really handy thing to have in your bullet journal, because you never know when you might want to write something down or journal one day, and now you'll have the spot to do it.
If you've never bullet journaled, or maybe you have and you gave up, I hope this gave you some inspiration and motivation to start up. It's definitely a lot of fun!
As always, thank you so much for reading! It means the world that you'd choose to read this post over the billions and billions of other posts out there.💓
Do you bullet journal? If so, what are your favorite parts? If not, do you want to? I'd love to chat with you all in the comments.
Photo by Jess Watters on Unsplash >> Credits for the image I used in my featured image- many thanks to the amazing photographer!