You could say I'm a pretty emotional reader.
Every bookworm is different- some cry over everything, some over nothing. I'd say I'm somewhere in between. It's complicated. 😉 Today I'm going to be talking about what is takes for me to actually shed real tears over words written on pieces of paper- otherwise known as books.
I've talked a little bit (in random posts I think?) about some books that made me cry, and in this post I'll be doing that yet again. Because who doesn't want to hear about a lot of books that will make them sob their eyes out??
Without further ado, let's get into the post!
So, you ask, what does it take for me to cry in a book?
The truthful answer is- not much.
There are a few key moments that really trigger my tear ducts. SUCH AS the fact that I'm listening to It's Quiet Uptown right now and Hamilton is singing to Eliza and I just can't, okay?! Okay, Hamilton rant is over. Wait she just took his hand. I'm a puddle right now.
Anyway, back to books. Ahem. I'm going to explain a few of the instances in which I can't help but turn into a blubbery mess over fictional characters. It happens to everyone, right?
1. When a character I love dies
I know this one is so cliché and of course this is on the list, but how could I not put it on here?? Sometimes I feel like the author is actually tearing my heart apart.
This is definitely the biggest reason I find myself crying in books.
Characters die way too much, and when it's someone like Umbridge (even though she didn't die in the series?? why??) I kind of just shrug. But when it's a precious character that I love, I'm inconsolable.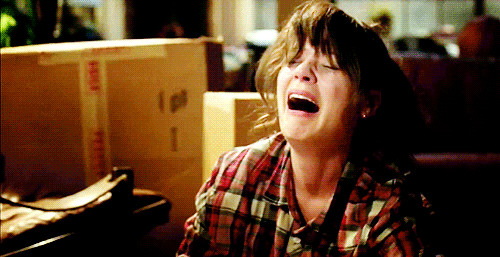 This is accurate footage of me when one of my favorite characters dies.
I'd like to say that if I'm ever an author, I won't kill off any of my characters. But I don't know if that's a promise I can keep, unless I end up writing books about My Little Ponies or something.
2. When something horrible happens to a character
Sometimes this can even be worse than death.
Whether it's because of abuse (I'm thinking of Julian from A List of Cages here and PRECIOUS BECK from A Thousand Perfect Notes), assault, or anything else, I can't stand to watch my children endure something horrible.
I'll usually start crying, because it's just too sad, and while I know it's not real, I know that there are people in the real world that are going through the same thing, and that's what makes it so sad. *deep breath* And if my precious characters start to cry…I'm a goner, you can expect a hurricane of tears from me.
3. If I'm emotionally shocked
If anyone has read We Were Liars, and knows about the giant plot twist, then you understand what it means to be emotionally shocked by book.
I was in complete shock after reading that book, and it made me cry real tears because of how unexpected and emotional it was.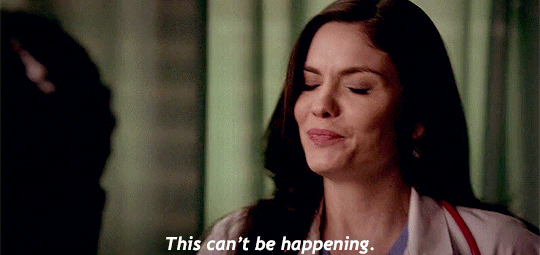 I'm still in shock about it! I honestly don't know if I'll ever be able to reread We Were Liars because it made me cry so much and I couldn't stop thinking about what had happened.
Well, if you haven't read We Were Liars, I apologize for getting you properly curious about what happened…but maybe now it's more clear what 'emotionally shocked' means and why I cried because of it. Also, what other books shocked you that much?
4. When my OTP breaks up
Ah, yes. Occasionally this does happen.
For the most part, I manage to ship the correct people? Meaning, I don't usually get my heart broken by books because my OTP usually ends up together. Percabeth, Ronmione, etc.
However, when two characters end up with the wrong people or break up or even temporarily break up, I can't help but cry. I just get emotionally attached to my OTPs in books and TV shows, I'm sorry.
5. If the characters are crying, too
In real life, I'm not a sympathetic cryer- if someone around me is crying, it doesn't necessarily mean I'll start crying, too.
But if a book character is crying…
How am I supposed to stand it when they're crying? And distraught? I become sad and distraught too. Now, I don't always cry if a character does, but in most cases, I just get so emotional and can't help it.
Those are the top five reasons I cry in books- it doesn't take too much to make me shed some tears. Now, I'll be sharing some of the books that I've cried over recently!
And these are just a few examples I could think of off the top of my head. They're all books I've read (or reread, in the case of Harry Potter) within the year.
That concludes this post! As you can see, I'm quite emotional when it comes to books. 😉 Somehow I don't think that will ever change.
Also, before you go- I wanted to thank you all for helping me reach 300 followers a few days ago! Your support means everything, and I can't ever thank you enough.💓I'll be trying to think of something special to do for this milestone. I can't believe it, so thank you all again!
Do you cry because of books? Why or why not? What books have you cried over before? I'd love to chat with you in the comments.
Photo by Annie Spratt on Unsplash >> credits for the image I used in my featured image!