Happy birthday, Purely Olivia!
My blog is now two years old, a fact that is both amazing and unbelievable. It's so crazy to think that it's been two years since I switched over to WordPress, created Purely Olivia, and wrote my very first post!
To commemorate the occasion, I'm going to be talking about some of my favorite posts I've done, some of my favorite memories from blogging, giving some thank-yous, and then at the end of this post, I'll have all the information and a place to enter my very first giveaway!
Without further ado, let's get started. 😉
First of all, let's take a look at some of my most popular posts over the past two years!
These are my top six most popular posts, and all the featured images link back to the posts themselves. All of these posts were written in this past year of blogging, and I remember loving all of them! Thank you all so much for all the love on these.
And now, here are a few of the posts that I personally loved writing, even if they weren't in the top six most popular posts. 😉
Again, all featured images link back to the posts. And honestly, I could list out so many other posts I loved writing! I have so many favorites, these are just a few that I feel like really came from my heart.
Another thing that makes blogging amazing is talking with you all in the comments. Sometimes, the posts that had amazing discussions in the comments are the best of all! Each comment makes me so, so happy and I hope you know that my day is made each and every time someone leaves a comment for me!
Here's a quick shoutout to the top five commenters on my blog- Annie, Marie, Carol, Lily, and Annie. I love having long comment conversations with you all! 💓
I don't want to share exact stats in this post because even though I'm not a big blog or anything, I wouldn't want to make anyone feel bad about their own stats! You're all amazing. But I did want to share a screenshot of the country-tracker thing, because holy moly, it's so cool to see!
Look at all those yellow countries! It's pretty amazing to think about that someone in all those countries saw a post on my blog. *squeals*
Now, it's time for a very sappy thank you.
I was rereading my post from last year. It was my first blogoversary, and I made a post much like this one to celebrate. At the end I said that by my next blog birthday, I wanted to have 85 followers. And now we have 328?!
That's pretty crazy if you ask me. I never would have guessed that my blog would somehow have over 300 people who actually want to read my posts and talk with me in the comments. Y'all are amazing, and I love you!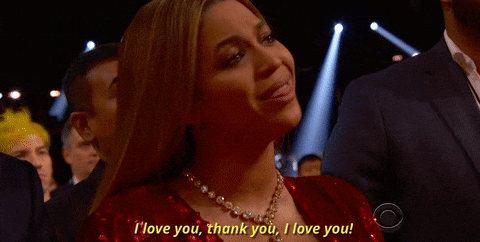 I wish I could send you all free books and cake and ice cream. Since that's not possible, we're going to have to settle for a virtual hug and for….A GIVEAWAY TO THANK YOU!
And now, the moment you've all been waiting for. 😉
I've been wanting to host a giveaway for a long time, and I'm so excited to finally be doing one. This giveaway is in honor of my blog's second birthday, but it's also as a thank you for 300 followers. Y'all are the best!
I will be giving away a… $20 online visa gift card! 🎉
I wanted it to be online because 1) then EVERYONE can enter, even internationally (note: I'm pretty sure visa gift cards work internationally? but if they don't, and you win and it doesn't work where you live, we'll figure something out, don't worry!) and 2) you can enter without having to give out your home address. And since it's a visa gift card, you can buy whatever you want with it.
Important Things to Know:
To enter, you must…

Be following Purely Olivia
Comment on this post saying what you would buy with the gift card
Provide a valid email address (which I promise to keep private!)

Once I pick the winner, I will email them. You must respond within 72 hours or I'll pick another winner! After I email you to verify your email address, then I'll email you the actual gift card.
I'll be using a random-picking website to find the winner, and I can 100% guarantee you that it will be 100% fair. 😉
I'll be announcing the winner on Monday, September 17th, so be sure to enter before then.
Just fill out the form below to enter!
I will have a few opportunities for extra entries! You get one extra entry if you mention this giveaway on your blog (and link back to this post), and two extra entries if you reblog this post. I'll keep careful track of the extra entries, but feel free to remind me that you linked back or reblogged so I can be completely sure I wrote it down!
YAY, I'm so excited to be doing this, and I hope y'all are excited, too.🤗
And that concludes my birthday celebrations! It's definitely been an amazing two years, and I can't wait for all the years to come. Thank you all again for your amazing support and for basically being the best people ever. Let's make year three the best yet, shall we?
Did you enter the giveaway? What would you spend $20 on? How long have you been reading Purely Olivia? I'd love to chat with you in the comments.
Photo by Brooke Lark on Unsplash >> Credits for the image I used in my featured image, thank you to the photographer!