I love a lot of things besides books and Harry Potter.
Since this is primarily a book blog, I often neglect to talk about things I love that don't revolve around the latest series I'm obsessed with or my thoughts on various characters. So when Annie (one of my best blogging friends!) tagged me for the My Favorite Things tag, I knew I just had to participate. 😉
Okay, there may be a few mentions of books in here I can't help it, but for the most part, I'm going to be discussing some of my favorite things that aren't my small, precious children. Also known as books. 
Without further ado, let's begin!
First off, here are the rules for the tag.
Link back to and thank the person that tagged you. (Thank you so much, Annie! You're the best. And you all should go read her post and stalk the rest of her blog, too.)
Link back to and thank the blogger who began the tag. (Thank you, Beth!)
List and picture at least seven of your favorite things.
Tag at least seven people. (I'll do this at the end of my post!)
List the seven rules. I am missing some?!
Can I just say, the fact that this tag is reminiscent of a song from "The Sound of Music" is just giving me the happiest vibes. I am *slightly* obsessed with that musical. And all other musicals, honestly. XD
All right, enough procrastinating, let's get into the seven things I am currently obsessing over!
Hamilton songs, especially now that it's fall.
I don't know what it is, but (so far), fall as gotten me into the Hamilton mood. Don't get me wrong, I'm always in a Hamilton mood, but in the past few weeks I have had it on repeat 99% of the time! If I'm listening to music, you better believe it's Hamilton. 😉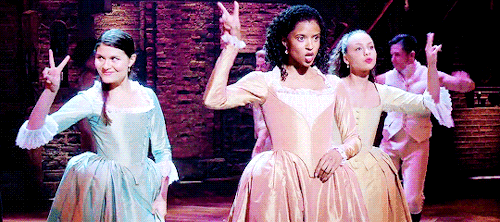 Maybe it's because the album cover is a slightly fall-ish color. Maybe it's because I'm in a nostalgic mood and what's more nostalgic than the literal past. Or maybe it's just because Hamilton is amazing and should be listened to at all times. Definitely the latter.
For Hamilfans, my current favorites are (but not limited to):
First Burn: I know it's not on the Original Broadway Cast recording, but it's so incredible that I can't stop listening to it.
The Cabinet Battles (both): I really want to memorize these! Is it impossible? Likely. Will I try anyway? YES.
The Schuyler Sisters: I believe the above gif says it all about that song.
Non Stop: THIS ONE IS ALWAYS SUCH A JAM, no matter what.
The bookstagram that I just created yesterday!
I'm so excited to announce that I have just joined the bookstagram community! (As of only a few hours before this post was published.) I can't wait to get better at taking photos of books, do Instagram stories, meet new people, and discover new books.
If you're interested in following me, my account is on the sidebar or you can find me @purelyolivia, or by clicking here. I would love to connect with you all! 🙂
Friends, because I'm never over it.
Even though I finished Friends over six months ago, I still just watching and rewatching it. And rewatching it and rewatching it.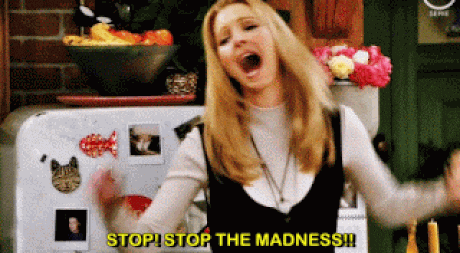 I love how genuine the friendships are (see I love friendships in TV shows just as much as friendships in books! okay maybe a little less but still), it makes me laugh out loud 100% of the time, and Phoebe is my spirit animal.
If you're looking for a new show that can be both entertaining and occasionally emotional, I would highly recommend friends.

Ice cream as a late night snack.
I am 100% stealing one of Annie's items here, but only because I agree so much with her pure genius. 😉 Lately, I've been really enjoying having ice cream after dance and dinner and homework. It's probably a habit I need to break, but…it's just too good.

Just fall in general.
Even though it seems like every teenage girl is, I am seriously obsessed with fall. As proven by this photo, which is from many years ago, I've been loving fall since the very beginning. (And loving princess pumpkins.)
There's something about the way the leaves change (in the fa-a-a-all), the crisp air, the pumpkin spice flavor, and the sweaters and boots that just makes my heart so happy. Even though it hit the high 80s where I live yesterday, I still have hopes for a nice, chilly winter filled with reading by the fireplace and lots of traditions.

Pinning things on Pinterest.
I've been loving Pinterest, especially random funny things I see on it and also Harry Potter pins. I couldn't do it, y'all. I couldn't go a post without mentioning Harry Potter. One day I'll do it, and will be simultaneously proud of myself and also disappointed.
Lately I've been scrolling through Pinterest a lot, like in the mornings on the weekend while I'm in bed, or when I have free time at school (the school Wi-Fi blocks a lot of apps, but I can still use Pinterest without using data). Here are a few of the pins I've loved especially (all linked back to their original source! none of these are mine!):

I could keep going, but for everyone's sanity I shall end here. Although can I just question why everyone on Pinterest is in that one font?! I have never noticed until they're all here together, but it's literally all the same font.

My new favorite Bible verse, Proverbs 31:30.
I have always loved Proverbs (and Psalms), but especially Proverbs 31. Recently, I came across a gem of a Bible verse that I now have written on my bulletin board and is my absolute favorite.
"Charm is deceptive and beauty is fleeting, but a woman who loves the Lord is to be praised."

-Proverbs 31:30
The reason why I love this so much is that it focuses on what's really important. It's easy to get caught up in having the perfectly likeable personality, or focusing too much on outward beauty, but what's really beautiful is loving the Lord. It's definitely a verse I strive to live by every day!

Well, that concludes my post. Thank you again to Annie for tagging me, and now for the seven people I tag! As always, no pressure whatsoever to do this, I just love tagging people to show my appreciation for all the wonderful bloggers out there.
Sissi // Kimberly // Laura // Tiffany // Brianna // Rhiana // Annie // Katie
Thank you so much for reading, and I hope you all have a lovely fall day today.🍂
Do you have bookstagram? Are you as obsessed with Pinterest as me? What's your favorite ice cream flavor? I'd love to chat with you all in the comments.
Photo by Alex Geerts on Unsplash >> Credits for the image I used in my featured image, many thanks to the photographer!