Characters are my absolute favorite.
The characters are what makes or breaks a book for me. I can still love a book that has a confusing plot or isn't quite as well-written as I would like, but the characters are negotiable- if I can't connect to them, then I don't love the book.
Luckily for me, there are so many wonderful characters out there! Thank you, authors, for being so kind and writing the best characters into existence. One mark of a true amazing character, at least for me, is that I would gladly become their best friend (if they were real and we crossed paths 😉 ).
In this post, I'm going to be screaming about a few characters that I would become the best of friends with in a heartbeat, and talking about what makes them so amazing. Without further, let's get into it!
1. Hermione Granger (from Harry Potter)
I wanted to start off with a character that most people would know and be familiar with, and I think Hermione is a perfect example of that. I think that, if the two of us were to be in the same school together hopefully Hogwarts and not my muggle school, we would be kindred spirits.
Hermione and I are very alike in that we enjoy learning, we're perfectionists, we love to read, and we would do anything for our friends. Yes, she can sometimes be a little bossy, but that's just the overachiever in her, and I can relate to that. 😉 I think we'd get along really well, and help each other learn new things!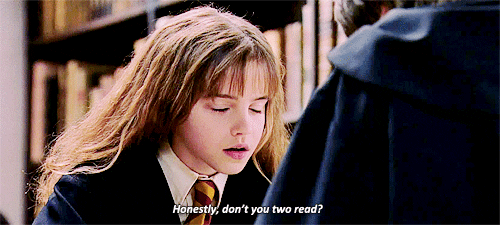 See? We're meant to be friends.
2. Blue, Gansey, Ronan, Adam, & Noah (from Raven Cycle)
I really, really would give nearly anything to be part of this friend group.
Half of the time I'm not even sure what's happening in the Raven Cycle (I'm so bad at understanding fantasy plots, y'all) but I still love these books with every molecule of my being, BECAUSE THE FRIENDSHIPS.
You have the perfect group of Gansey (the love of my life), Adam (the most precious human ever), Ronan (my dearest Ronan), Noah (the cinnamon-iest cinnamon roll), and Blue (who doesn't deserve to be last on this list and is completely amazing). I would fit right in, right?! They definitely need an introverted, dancing bookworm to fill out their friend group, right?!
I can see myself being such great friends with these characters because they really throw themselves wholeheartedly into their friendships. They give their relationships their all, and can be described as none other than a family, and I love that.
3. Jo March (from Little Women)
They may be quite a large generational gap between us, but when it comes to a possible friendship between Jo and I, I don't think that would matter. 😉
Out of the four March sisters, I think I'm most like Beth, but I still think Jo and I would be the best of friends. We'd share our love of books and writing, which would prompt so much conversation between us.
However, other than that, we don't have too much common, though that wouldn't stop us being friends. Jo would be able to teach me a lot about courage and doing things outside of my comfort zone, and maybe I would be able to help her control her temper. I think we'd make a nice balance!
4. August (from A Thousand Perfect Notes)
A Thousand Perfect Notes came out about four months ago, and I have already read it twice. I loved every aspect of it, but my most favorite part was hands down the characters. And my favorite character was undeniably August.
August is full of sunshine, happiness, and good vibes. She reminds me of a sunflower or ice cream on a summer's day, and her character is truly the embodiment of joy. It would be so amazing to be friends with her!
If August and I lived near each other, I think we would definitely become friends, and I think she would just be such an amazing person to be around because of her positivity and her tendency to build everyone up instead of tearing them down. 🙂
5. Liesel Meminger (from The Book Thief)
I love The Book Thief, and Liesel Meminger, with all my heart.
Yes, it broke my heart (shattered it, in fact, into millions of pieces), but I can't help but absolutely adore it anyway. I can see myself being such amazing friends with Liesel for so many reasons.
First of all, we both love books (I sense a trend), but second of all, she just is such a genuinely good person. She does a few things throughout the books that I never would have done (one of them pictured above, if that's the scene I think it is) but that doesn't mean her heart isn't in the right place or that she isn't innately good.
I can just see us sitting together, reading in a beautiful library, and that makes me happy.
And that concludes my list! Of course, there are countless other book characters I love dearly- read any one of my review posts, and I'm sure you'll see me screaming about some character or another. 😉
In this post, I wanted to talk about characters from some books that I thought a lot of people reading this post have likely read, so that way it wouldn't just be everyone reading a lot of character names they don't know. XD I might do a post like this again, though, with more characters that aren't necessarily from popular books!
Also, I very much apologize for the sporadic posting lately. It's making me so sad to neglect my blog, but school and dance take top priority for me, and I wasn't able to get out a blog post last week. I didn't have time to write a post that is up to the standards I set for myself, so I decided not to write one at all.
In addition, I haven't been giving all of your posts the proper love and affection that they deserve! I can't remember the last time I was caught up in my Reader (I'm at least three weeks behind at this point), and while I am able to read a few posts every now and then, it isn't consistent at all. So, my apologies for not being able to read all of your posts- I miss them dearly, and I hope I can catch up soon.
Fall is such a busy time of year, and I hope you are having an easier time managing all the stress than I am! Don't forget to take a breath every once in a while and remind yourself that you are amazing.💓
What book characters would you be best friends with? Do you agree with any of mine? And how are you doing? I'd love to chat with you all in the comments.
Photo by Christin Hume on Unsplash >> Credits for the image I used in my featured image, thank you to the photographer. :))