If I'm not reading, I'm listening to Hamilton.
This is a very true fact. I listen to Hamilton in the car, while I'm getting ready for dance, while I'm cleaning, when I'm writing blog posts- at any time, you can pick up my phone and Hamilton will either be playing or might have just been paused.
I've talked about loving Hamilton a couple times on my blog, but there hasn't been an entire post dedicated to it yet, and I think that needs to change. 😉 So I decided I wanted to make a book tag about Hamilton, and then upon researching it, I discovered that it's already in existence!
The original tag was created by the booktuber Maureen Keavy way back in 1791 is that what you have, are you done October 2015, and I found the blog version here. I'm not sure if it's allowed to do a tag so long after it was originally created, but I'm going to do it anyway because I love Hamilton too much not to.
Oh, and a quick warning- this post will contain many Hamilton lyric references, gifs, and fangirling. Continue at your own risk (I really hope you do?!), you have been warned.
The Room Where It Happens ~ a book world you would put yourself in
First of all, The Room Where It Happens is my current favorite Hamilton song. It's just too good, especially the part where Hamilton imitates Burr, and when they're doing the reporter-interview-thing, and THE BANTER. *clears throat* Ahem, moving on.
I think you all kind of knew my answer for this one…the wizarding world.
Yes, yes, no one was surprised. But seriously, it would be a dream to live in the wizarding world. I promise I won't use Harry Potter again for this entire tag though, because we all know I use it way too much.
The Schuyler Sisters ~ an underrated female character
One female character who I think Angelica Schuyler would have approved of is Dimple Shah from When Dimple Met Rishi.
She's smart, she knows what she wants with her life, and she's going to go for it. Dimple doesn't have any plans to let a guy get in her way- she wants her own future and her own path. I can see her and Angelica being kindred spirits on a lot of things- like looking for a mind at work.
My Shot ~ a character who goes after what they want
I cannot not mention my dear, precious Gansey.
If you haven't heard me crying about Gansey from The Raven Cycle yet, hello, my name is Olivia and I have fallen hopelessly in love with a fictional character named Richard Gansey the third. He's perfect, he's adorable, and he's also on a quest to find an ancient king and he absolutely will not give up.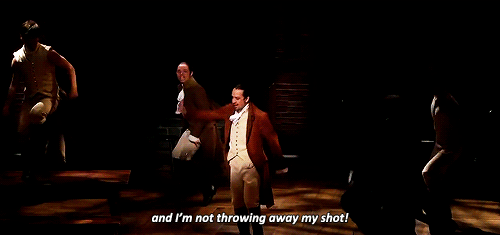 Even when everyone thinks he's insane, he still goes on. That's definitely the epitome of Alexander Hamilton, am I right?
You'll Be Back ~ sassiest villian
I don't really read too much fantasy, and since I have banned myself from Harry Potter, this one was actually very hard for me. Turns out, YA contemporaries don't really have villians. 😉
I think I have to say President Snow from The Hunger Games? Except was he really sassy…I can't recall anymore. I think he was just really manipulative so I guess you could read it as him being full of sass.
Non-Stop ~ a series you marathoned
I never marathon series the first time I read them. I love to slowly read and savor every moment of the first go-around, but by the second time and any times following that, I'm willing to marathon and binge.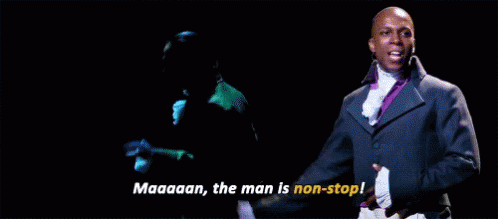 I mean, change the "man" to "Olivia" and that's a pretty solid statement right there.
I'd say the series I most often marathon is the original Percy Jackson series. I reread it early this fall, and I was going through book after book because they're just so good. I think I devoured about one every couple of days. There's never too much Percy Jackson or Annabeth Chase or Grover Underwood.
Satisfied ~ favorite book with multiple POVs
My favorite book with multiple POVs has to be The Book Thief. It's such a beautiful, heartbreaking, important, wonderful book. It had a lot of hype a few years ago, but it truly deserves all the love, even now.
Liesel is such an amazing character, and I can't even explain the heartbreak that comes along with this book. I do know, that's it's worth reading even though you know it's going to be emotional.
Who Lives, Who Dies, Who Tells Your Story ~ a book/series that will remembered throughout history
I can't predict the future, but I truly feel like Simon vs. The Homo Sapiens Agenda will be a book people read generations from now.
Not only is it an amazing book, but it also has a movie. That's always an incentive for people to read it, making it more well known. And when kids in the future watch the movie (probably making fun of the poor camera quality back in 2018) they'll want to read the book. This book better become a required reading for school fifty years from now.
Helpless ~ a relationship you were rooting for from the start
Can we all agree that Mateo and Rufus from They Both Die at the End are so pure and deserve…way better than what they got?
*a resounding yes echoes from everyone who read the book*
This book only takes place in one day, so there's no way to call this relationship "slow," but I mean, they started off as friends and then it progressed to something more. And I was just over here screaming, because I'd been waiting the whole book for that! Sometimes you just have to be willingly to wait for it, if you know what I mean. 😉
What Comes Next ~ a series that you wish had more books
This isn't even a series, but I really wish there was a sequel to The Last Summer of the Garrett Girls.
This gif is unrelated other than the fact that it's the king who sings What Comes Next, but I had to include it because….I love Jonathan Groff. (He was in Glee too! *screams*)
Anyway, I feel a strong desire to continue following the lives of all the sisters, and I'm so sad the book had to end. It did end at a good spot, but there is still so much that was left open, and I'm dying to know what's next. Basically, I want an epilogue that ties up all the loose ends and gives me exactly what I'm hoping for, but a second book in the series would work too. XD
Right Hand Man ~ favorite brotp
I didn't even know brotp was a thing until now, but apparently it is, and I'm living for it.
I had to include a gif of the Hamilton bros, though, because…if there wasn't a gif of the OG squad in this post, would it even be a Hamilton post?!
I'd definitely have to say Jason and Percy from the Heroes of Olympus series, because it's entertaining to see them try not to overpower each other but accidentally (and sometimes on purpose) doing it anyway. Also, they literally call each other "bro" sometimes, and if that doesn't make it a brotp, I don't know what does.
What'd I Miss ~ book/series you were late to reading
I'm going to answer this with a very, very popular book that I have yet to read and sort of doubt I will ever get around to reading- Divergent.
I have a slight interest in this book, but I've also heard that the series doesn't get much better, and I'm not as interested in that. I also feel like I completely missed the hype and it's a little late for me to jump on the bandwagon now, years later. Even if I do like it, I don't know if anyone will fangirl with me. XD
The Reynolds Pamphlet ~ a book with a plot twist you didn't see coming
Oh, this is 5000% percent We Were Liars. 
This is a fairly accurate representation of my face when I read it, except with a lot more screaming and also some crying, too. I don't want to say anything else because I went in blind and I think that's the best way to do it, but GOSH, that plot twist.
That was a lot of Hamilton, and a lot of books. My two favorite things have combined, and I'm so very happy right now. 🙂
There are a few other questions that I didn't do because they require me to share spoilers, which I wouldn't want to do in this post- so if you decide to watch the original video, that explains why mine isn't identical to it.
I'm going to be tagging a few other bloggers (ones that I know love Hamilton just as much as me!!), but no pressure to participate if you are tagged, and if you aren't, please feel free to do it anyway. I know I'm missing people I've screamed about Hamilton with and that makes me sad. Alexa play It's Quiet Uptown. I tag:
May @ Forever and Everly // Lily @ Sprinkles of Dreams // Hazel @ Hey It's Hazel // Abby @ When Words Fly // Annie @ Blossoms & Bullet Journals // & anyone else!
I really loved doing this post, thank you all for reading my rambling thoughts on musicals and books! This was a very long post- I'm a little too obsessed, we all know it's true. XD
Do you love Hamilton? If so- favorite songs? Do you love some of the books I mentioned here? I'd love to chat with you all in the comments.
Photo by Peter Lewicki on Unsplash >> Credits to the photographer of the image I used in my featured image- thank you!