Just like reading, Gilmore Girls is a lifestyle.
It was the first show I ever binged watched, the first time I really connected with a character on TV, and, well, I couldn't be more excited for this tag!
It was created by my wonderful friend Rhi (you should go give her some love 😉 ) and I absolutely love everything about it. I mean, one of my favorite shows? And books? In the same post? (If you haven't watched Gilmore Girls, don't worry, there won't be any spoilers in this post, though I hope I can convince you to watch it! It's about a bookish girl (!!) and her mom and their life in a little small town.)
Prepare yourselves for a post full of me fangirling about books and Gilmore Girls, as well as a lot of gifs (because when do I not use gifs) and references. Yes, I smell a lot of references. That was a reference.
Okay, without further ado, into the post!
First of all, I truly think one of the reasons I love Gilmore Girls so much is that it has a bookish main character. She's smart, she loves to read, she enjoys learning, and I don't think we get many main characters like her. She's amazing, okay?!
This is the only time (I promise! I'm sorry!) that I'm taking one of Rhi's answers, but I just have to say Vi from The Last Summer of the Garrett Girls. She was such a bookdragon, and I adored her for it.
Let me introduce you to Gideon. He's from Foolish Hearts, and he is adorable, and he is also kind, and he is also not Lorelai Gilmore.
But- if the two met, I feel as if Gideon would not fall behind. He's easygoing enough and kind enough and would be able to engage in a very rapid, babble-y conversation with Lorelai. I stand by this firmly.
I just finished Summer Bird Blue, and wow, Mr. Watanabe, guys.
I won't spoil anything, but he's actually the most marshmallow-y marshmallow disguised in a grumpy outer shell, and I loved him. Watching the relationship between Rumi (the main character) and Mr. Watanabe was quite possibly one of my favorite parts of the book. He's a Luke if I ever saw one. 😉
On this one, I have to go with Adam from A List of Cages, just because I utterly adore him and he's such a really, really good friend.
I'll never forget the iconic friend group from that novel, in which Adam was literally friends with everyone, or how he was so nice to random kids in the hallways, and especially how he took Julian under his wing and became the best friend and big brother figure ever to exist.
Sookie is me after everyone is annoyed with me yet again squealing about Adam and about this book. (But I can't help it. He's a sunflower, okay?!)
Three guesses, except you probably need none of them to figure out that my answer for this one is Harry Potter. ⚡️ I just cannot think of another book that brings me so much happiness and relaxation!
Oh, and obviously I needed to put a gif of the one time (I think) they mentioned Harry Potter in Gilmore Girls. Seeing as this show came out in the early 2000s, and Rory was an avid reader, I really think it should have been a topic of conversation much more frequently….but it's okay, I can't hold anything against Gilmore Girls.
So, I'm Team Logan. (For people who haven't watched it, there are basically three main boyfriends the main character has over the course of the whole show, and us fanatics love to choose one that we adore the most.) I always felt like I should have been Team Jess but my heart belongs to Logan?
Rhi pointed this out to me, but…LOGAN AND GANSEY (The Raven Cycle) are so similar. They would definitely hang out and well, I'm 100% here for that friendship even though I'm in love with both of them so that might be a slight issue.
I'm going to be typical and return to my Percy Jackson roots for this one. At the end of the day, there's hardly a ship I'm more invested in than Percy and Annabeth, famously known as Percabeth.
I can't thank Rick Riordan enough for actually making Percabeth a reality, and for not making them break up in the books! I really do love a committed relationship that is never the source of drama in the book. WOW, I LOVE THEM. Someone please scream about Percabeth with me. I'll love you forever.
I finished Leah on the Offbeat just today, so Leah came to mind for this prompt. She's so musical, with her drumming talents, though I also love that she's into art as well. (And the descriptions of her art and her playing! They were amazing.) I think it's cool since Lane is a drummer too, it's like she and Leah have a connection.
I have so many thoughts about this book, but I should probably save them for an actual review?? For now, I'm just going to quietly whisper one smol thing that I really want to shout from the rooftops. SIMON AND BLUE. THE SIMON AND BLUE MOMENTS, I AM NOT OKAY. NOT AT ALL. IT WAS KINDA THE BEST THING EVER.
As a book blogger, I tend to spend a lot of my time screaming about various books (i.e., telling people about them, but in an enthusiastic way).
I sort of feel like I could put any book here and it would work, but one book that I feel as if I've told a lot of people in real life about as well is The Book Thief. It helps that it's also a movie and a fairly recognizable title even for people that don't spend their free time reading book blogs. XD I've gotten a few of my good friends to read it, and that's always the best feeling.
Was A Thousand Perfect Notes written so that it could tear apart my heart, but also fill it up, but also scatter the pieces around, but also try to sew it back together?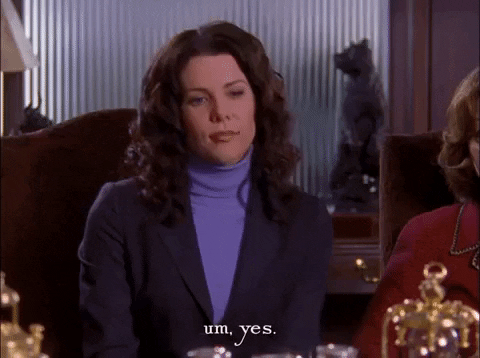 And yes, I love ATPN for that. (Also, I love it for like a trillion other reasons, obviously.) But I can't deny that reading it (and rereading it, because it was just that good, and yes, it came out less than a year ago) was an emotional rollercoaster. *wipes away tear*
The most recent binge-read in memory for me was actually just three nights ago, when I devoured Me Before You. I literally couldn't put it down, and just kept reading and reading until I finished it.
And no, I'm nowhere near okay about this book, everything still hurts. Paris, I feel like, would most definitely relate.
Well, that concludes this tag. Thank you again to Rhi for tagging me, and for providing these beautiful graphics that I used! I adored this so much, it genuinely made me so happy to write a post about Gilmore Girls and books.
I don't exactly know who to tag, since I'm not sure who does or doesn't like this show…but I tag anyone who wants to participate!💓I know that I (and Rhi!) would love for you to participate if you'd like.
Thank you all for reading! I hope you're having a glorious March, don't forget in omni paratus- oy with this post already.
Do you like Gilmore Girls? If not, are you going to watch it now? Do you love any of the books I mentioned? You comment, I comment, Jack. 😉