I believe in a lot of things.
I believe in the innate goodness of people, love, gravity, God, the fact that my heart can be torn apart by a book… But one other (very important) thing I believe in is that everyone should give Harry Potter a chance.⚡️
In case you didn't know about my immense (and sometimes slightly terrifying) love for Harry Potter…well, I have an immense and sometimes slightly terrifying love for Harry Potter. And I like to talk about it on my blog, a lot.
In today's post I'm going to list a few reasons that will hopefully convince you to read Harry Potter if you haven't yet, or to reread it if you have already read it! I'm very excited for this, because screaming about Harry Potter is one of my specialties.
As a slight disclaimer, if you haven't read Harry Potter because your parents don't allow you to, it goes against your beliefs, you have read it and didn't like it, etc. – this post is not meant to criticize you for your choices, or say that you need to read Harry Potter. This is just the lighthearted ramblings of a your resident Hufflepuff! That's me.
All right, without further babbling, let's get started. 😉
Hogwarts teaches you so much more than magic.
I truly think Harry Potter helped shape me as a person.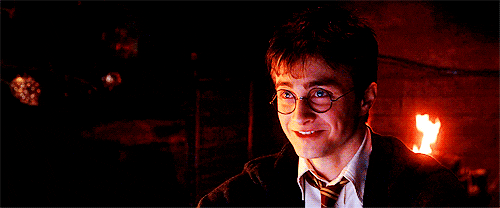 That sounds overdramatic, but it's true. I first read Harry Potter when I was eight years old, and have reread it consistently since then. There has never been another book that's been with me as long as this series, and the lessons that lie within it are invaluable.
Friendship, courage, loyalty, wisdom. Good vs. evil. The idea that you don't have to be evil just because you're surrounded by it. You don't have to be the best at whatever it is you do in order to succeed. The lesson that love (platonic, familial, romantic) makes all the difference in the world.
J.K. Rowling packed so many life lessons into her seven books, and for that, I'm grateful.
You'll understand references!! 
One thing I've noticed as an avid Potterhead is that there are a lot of Harry Potter references out there. Every time that happens, I scream and flail and point out the reference to the people I'm with. Usually their reaction is along the lines of:
But you know, it's okay. It's okay I'm okay.
However, if you read Harry Potter, you'll be privy to all these references!! You'll have knowledge beyond just "Gryffindor and Slytherin" (there are two other houses too you know) and suddenly all the references will make sense.
There are 7 whole books and 8 movies to entertain you.
If you decide to read Harry Potter, it's not just a single book that will be over too quickly for you to even fall in love with it.
No, no, no- there are 7 full, long, detailed, interesting books. Not to mention pretty amazing movie adaptations, of which there are 8.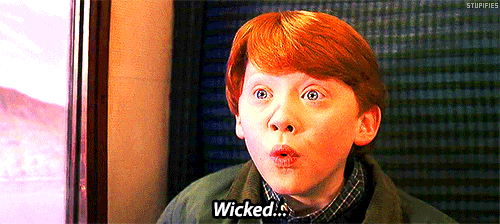 Reading Harry Potter only has to be as much of an investment as you want it to be. If you want to take your time and slowly devour each novel, you can. If you'd rather eat them all at once (like me, oops, I'm like Fluffy) then you can go right ahead, too.
The main point is you have so many wonderful books and movies ahead of you! Go at your own pace and enjoy being entertained.

It has an amazing cast of characters.
Part of the reason that I think I was so drawn into the magical world is because I adored so many of the characters in it.
We have Harry, who (as I've extensively discussed) is incredibly kind, humble, relatable, brave, and just the most wonderful smol cinnamon roll?? I don't love him at all. We also have Ron, who's hilarious, also really brave and a great best friend, and Hermione, who is intelligent, quick thinking, and also the best friend. They're all good friends, okay. I want to be in the Golden Trio.
You also have your morally grey characters, like Snape and Draco and (debatably?) Dumbledore. You have parent figures (Sirius, Mrs. Weasley, Hagrid, Lupin), odd but endearing characters (Luna, Dobby), not to mention everyone at Hogwarts.

For any Harry Potter fan, it's likely that they have a hard time picking a favorite character…that's because they're all wonderful and such a pleasure to get to know.

There are so many opportunities to be a part of the fandom.
I consider myself part of the Harry Potter fandom, though I don't know if I count? I'm not on tumblr or anything, but I do scream about it a lot on my blog and in real life. (We're just going to say that makes me part of the fandom. I don't have to be official, right?)
As a lover of this series, since the fanbase is so broad, I get to have so much fun with it. I have a couple of Harry Potter shirts, pajama pants, socks, and other things like mugs. I also love looking about Harry Potter pins on Pinterest (mostly headcanons, but other things too) and now I have an obsession with snowy owls.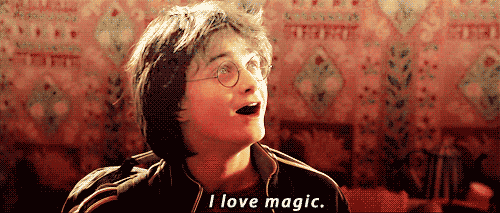 Harry Potter is kind of a phenomenon…and that makes it so much fun to be a fan! There aren't too many book series for which you can easily buy shirts for and find so much content about on the Internet.
It's so amazing to be a part of the fandom, and that's one great thing about reading Harry Potter.
Once you read it, it will be with you for the rest of your life.
From my own experiences and the experiences of other Potterheads I've encountered, Harry Potter isn't really the kind of book you read and forget about.
There's a reason why J.K. Rowling created Pottermore, why there's a Broadway play (although I try not to think about Harry Potter and the Cursed Child), why colleges have Quidditch teams, why there's an entire theme park that is a replica of the Harry Potter world.
Once you've read Harry Potter, it stays with you. You'll remember the life lessons it taught you, you'll look back fondly on your days at Hogwarts (because we all got to go to Hogwarts with Harry), and you'll maybe even want to revisit it.
Reading Harry Potter is an amazing experience and it doesn't just go away.

I love Harry Potter. Hah, you couldn't tell at all. I know that there are a lot of people who don't like it, but I wrote this post for the small percent that maybe just needed that extra convincing push in order to read this series.
…And I also wrote this because, well, I adore talking about my absolute favorite books and it makes me really happy. I hope you enjoyed, and thank you so much for listening to me ramble on about Harry Potter.
Have a magical week!⚡️
Did I convince you to read Harry Potter if you haven't already? If you have read it, what made you read it initially? Would you reread it? I'd love to chat with you all in the comments.
P.S. Did I convince you, Annie?
P.P.S. Photo by Rae Tian on Unsplash >> Credits for the featured image photo!