I did it. I finally read the most hyped book of all time.
Without fail, I have heard about Six of Crows on nearly every blog. It's been in recommendation posts, in discussion posts, and it lived on my TBR for longer than I'd like to admit.
The hype grew so much that eventually I was torn between a desperate desire to read it and a just as desperate desire not to read it, because what if it didn't live up to all my expectations??
All these thoughts reached their apex on March 26th, 2019, the day I started to read Six of Crows. I feel like there should be ominous music playing in the background. Needless, to say…it was all worth it, and all the hype was absolutely right.
In this post, I'm going to be first reviewing Six of Crows! If you haven't read the book yet, you don't have to be worried about any part of it getting spoiled in that section. After a quick review, I'm going to be screaming more directly about the book, and while I won't be explicitly spoiling anything, I don't recommend reading that part of the post if you haven't yet read the book. I'll make sure to differentiate between the sections. 😉
I can't wait any longer to talk about this book, so let's get started!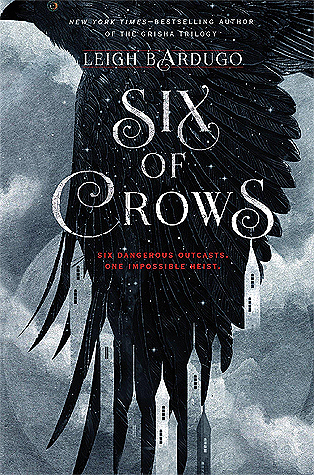 Title: Six of Crows
Author: Leigh Bardugo
Page Count: 462
Genre: YA Fantasy
Ketterdam: a bustling hub of international trade where anything can be had for the right price—and no one knows that better than criminal prodigy Kaz Brekker. Kaz is offered a chance at a deadly heist that could make him rich beyond his wildest dreams. But he can't pull it off alone. . . .
A convict with a thirst for revenge

A sharpshooter who can't walk away from a wager

A runaway with a privileged past

A spy known as the Wraith

A Heartrender using her magic to survive the slums

A thief with a gift for unlikely escapes

Kaz's crew is the only thing that might stand between the world and destruction—if they don't kill each other first.

-Summary via Goodreads
Well, I think this was a lesson in not letting the hype scare you away from a book. Because sometimes the hype might be right.
Six of Crows was enthralling. It didn't take long for me to be drawn into the world and into the lives of the characters. I felt like I was on the adventure with them, and I think that's part of what made this book so brilliant.
The characters were fleshed out, felt so real, and beautifully, wonderfully morally grey. There were chapters from each of their perspectives (except my smol child Wylan) and that made me understand each of their motives and backgrounds so much more vividly! Their past and present were intertwined together- and it worked. So well.
Each character has their own difficult past, which you get to learn about, and they each have different motives for why they are where they are now.
You have Kaz, the mastermind criminal who literally continued to provide a book's worth of plot twists and is quite possibly my favorite??
Inej, a former acrobat who is the ultimate spy and is also the most loyal and determined character!
Jesper, a ball of energy and cleverness with a weakness for gambling but a strength for taking care of his friends.
Then there's Nina, who has magical powers and will do whatever it takes to protect her friends and ensure their mission's success!!
Wylan, who may be the odd one out but who is surprisingly sassy and holds skills that will prove to be vital.
Last but not least, Matthias, the most conflicted and complicated and amazing character there ever was??
Another thing I loved about this book is how even when the situation was grave, there was a constant supply of witty banter and one-liners that actually had me laughing out loud. Leigh Bardugo is an actual Writing Queen of all Writing Royalty.
I honestly was intrigued in this story from the get-go, and even though I initially wondered how a single mission could go on for almost 500 pages, well, the plot never slowed down at all.
It was action-packed, it went in unexpected directions, and the ending both satisfied me and left me wanting desperately needing more!
The setting did cause a bit of confusion to me at first, as I felt just thrown into the story without much worldbuilding, but I soon realized that was because I hadn't read the Shadow and Bone trilogy (unrelated, but set in the same universe) and those books gave much more background. I was able to figure out everything fairly quickly, though.
Overall, the underlying messages of acceptance, prejudice, belonging, and loss made this story so powerful. It was so much more than just another fantasy story. It was beautifully crafted and I loved it so, so much.
If you couldn't tell from my glowing review, I couldn't imagine giving Six of Crows anything other than five stars.
★★★★★
I truly recommend this book to anyone, whether you normally read fantasy (I don't!) or not, and whether or not you've been influenced by the hype. It's worth it!
And now it's time for me to fangirl over some more specific parts of the book. If you haven't read this book and plan to, I recommend not reading beyond this point just so you can go into the book blindly!
First of all, can we please just take a moment to appreciate the relationships this book has?! Because I'm not over it at all.
Kaz and Inej.

They make me actually want to cry, but in the best way possible. I truly love both of their characters, and they better have more moments in Crooked Kingdom!!

Jesper and Wylan.

So far not much happened, but there was definite flirting and?? THEY ARE SO CUTE. Please let there also be more in Crooked Kingdom.

Nina and Matthias.

I thought their history together was so interesting and unique and really added another element to the story! And I loved how Matthias made the right decisions, shoutout to him.
Also, hi, yes, can we please give Kaz Brekker a standing ovation for consistently being fifteen steps ahead of me, the rest of the crew, and basically everyone in the entire world. I never saw any of his plot twists coming.
This was a note I wrote on my phone directly after finishing the book, and I think my excitement and general amazement definitely came through in it.
I was trying to capture my initial thoughts so I would have a guide of what to write in my review but it came out a bit…delirious??
It's okay, I was still kind of in shock.
The last thing I want to touch on in this post is the cliffhanger. Because what, no, how, why, WHAT. At least there's one reason I'm happy to have procrastinated this book so long- I was fortunate enough to be able to check out Crooked Kingdom and start reading it.
By the time you're reading this post, I will hopefully be done with Crooked Kingdom, and I'm anxious to see how I feel about it. Will I be satisfied, unsatisfied, happy, sad, just as delirious as now??
I guess we'll find out soon. 😉
Small edit: I'm not going to talk about my thoughts from Crooked Kingdom in this post, since it's a SOC post, but I have finished it, and the one thing I wanted to add here is that my favorite character is Jesper!! (With Wylan being a close second.)
If you've made it this far, I congratulate and thank you for reading 1.2k words of me fangirling over Six of Crows! I hope you enjoyed this post, and if you haven't read this book I might have convinced you to do so??
I also hope you're all having a lovely week and that April is treating you well so far.✨ I'll see you all next week, or in the comments!
Have you read Six of Crows? What did you think of it, fangirl with me! Did the hype influence you one way or another? I'd love to chat with you all in the comments.
Photo by Aditya Vyas on Unsplash >> Credits for the image I used in my featured image!