It is a truth universally acknowledged that pancakes are amazing.
Even if they aren't your favorite breakfast food (I have to admit, waffles offer some true competition), there's something amazing about a tall, warm stack of pancakes. Especially if they have chocolate chips…or blueberries…or whipped cream… 😉
Prepare to be craving pancakes for the rest of this post, because today I'm going to be participating in Becky's Pancake Book Tag! Being the amazing human that she is, she combined pancakes and books all into one post, and I couldn't love it more.
This tag is incredibly creative- I love all the prompts, the beautiful graphics, and of course I can't wait to talk about some wonderful books all the while wishing I was eating pancakes right now.
Without further ado, let's get into the post!
The Rules
Link back to the original creator of the post (go read it here!)
Feel free to use any of the pancake graphics in your post, or you can create your own. (I'm using Becky's because they're beautiful!)
Tag 5 other people at the end of your post and let them know you've tagged them.
I don't often read books in prose, so for this one, I'll be going with a book with beautiful descriptions and overall writing style.
My answer is most definitely Summer of Salt.
This book was so, so gorgeous! I need to reread it soon. The descriptions of the magic, the stormy, mysterious island- even months after reading this book, I still have a vivid mental picture in my head, and that says a lot.
I just finished Six of Crows, so I can't think of any character that fits this more than Kaz Brekker?? He's ingenious, an actual mastermind, and he definitely has a sharp temperament, too.
"What doesn't kill me better run."

-Kaz Brekker, Six of Crows by Leigh Bardugo
You'd never want to cross Kaz, but it's likely he's already crossed you.
This has to be Simon vs. the Homo Sapiens Agenda. I recently reread it and remembered just how much I absolutely love this book- Simon is adorable, his family has the cutest traditions, BLUE, there are many Harry Potter references, BLUE, all the friendships, Oreos, BLUE.
This is me wistfully thinking about how much I love this book and how much I want to see the movie…
To be honest, I don't remember when I last had a book hangover. Usually, I slump because I'm too busy to read, not because of a specific book. Is that strange? I feel like it's normal to slump over books, so I'm not sure why it doesn't happen to me.
Now I've probably jinxed myself, but anyway, if I were to get a book hangover, I feel like a good time for it to happen would have been after The Blood of Olympus.
Percy Jackson was one of the first series I ever remember loving, and I was so excited to keep reading the next series. (Even when Rick Riordan was mean and gave us that horrible cliffhanger after Mark of Athena and I had to WAIT FOR THE NEXT BOOK TO COME OUT.) It was definitely hard to say goodbye to Percy and Annabeth, and I could see myself slumping after that.
My favorite book, A List of Cages, is completely full of the feels. I was not fine after reading it, in a Ross-esque kind of way.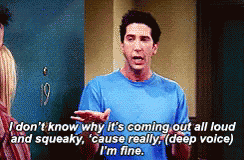 A List of Cages had feels associated with wonderful friend groups, feels associated with brotherly relationships, and more serious feels, too. I cried while reading (and rereading) this book. Y'all, it just gave me all the emotions.
Ah, this is where Snape from Harry Potter comes in.
If you're a frequent blog reader, then you likely know that a) I am quite a large Harry Potter fan, b) that I really don't like Snape but c) I think he's an amazingly well-written, ambiguous character.
He fits well for this one! Even though I like blueberry pancakes and I don't like Snape so this is slightly sad for me. Snape is admittedly pretty clever and cruel, and you find out eventually that he does have a whole hidden backstory. Which isn't an excuse for his actions, by the way.
This isn't exactly the slippery-est plot I've ever read, but it still managed to shock me quite a few times, plus it needs more appreciation- Me Before You.
I won't go into detail because this isn't a place for spoilers, but wow. I cried and gasped and was incredibly surprised by this book!
This has to be Dimple and Rishi from When Dimple Met Rishi!
At first (like Dimple), I was a little hesitant to get on board with their romance. Since the reader has chapters from both of their perspectives, both of their outlooks were clear to me- and I wasn't sure how well they'd go together based on their very different thoughts and plans for the future.
However, the hopeless romantic in me eventually let myself enjoy the story and soon I was hoping for them to be together just as much as everyone else.
This probably sounds bad, but I didn't like the main character in We Were Liars.
It's unusual for me to dislike the main character?? (If you've read this book, no, I didn't dislike her because of what she did, necessarily.) Honestly, I just felt so unconnected and that made it a little hard to read. Overall, though, I did like this book.
One of my newest favorite reads, Radio Silence, had a great diverse cast!
Nearly all the main characters were LGBTQ+ (bisexual, gay, demisexual representation), and the main main character was biracial (Ethiopian and white), while another side character was Korean. I can't speak to the accuracy of the representation, but I thought the amount of diversity in this book was amazing and, well, it should be the norm in YA.
I loved it so much, wow!
All right, now for who I tag. 😉 Please feel no pressure to do this if I do tag you, and if I don't but you'd like to participate, by all means, do so!
Kimberly // Annie // Lais // Annie // Kay
Thank you again to Becky for creating this tag and for tagging me- I had so much fun thinking of books that matched up! (Even though now I'm desperately wishing for some pancakes…)
I hope you're all having a lovely April, and if you celebrate, have a wonderful Easter this coming Sunday. ✨
What's your favorite type of pancakes? Do you slump after reading a really good book? What's a book where you didn't like the romance at first? I'd love to chat with you all in the comments.
Photo by Food Photographer | Jennifer Pallian on Unsplash