You know me, always reading more and more YA.
Today I'm here with six mini reviews of YA novels that I read in the past few months! It's been forever since I last did a post like this (i.e., a post where I scream your ear off about books), but I'm so excited to be back on my reviewing game.
Yes, I read these books more than a month ago? But I loved them all so much that it didn't take too long to remember why I gave them such high ratings back in April. 😉
In this post, I'll be sharing my thoughts and ratings for five contemporary and one (!!) sci-fi young adult book. Like usual, you can expect me to be fangirling immensely over…everything, to say the least.
I have quite a lot to say about all of these novels, so without further ado, let's get into the post!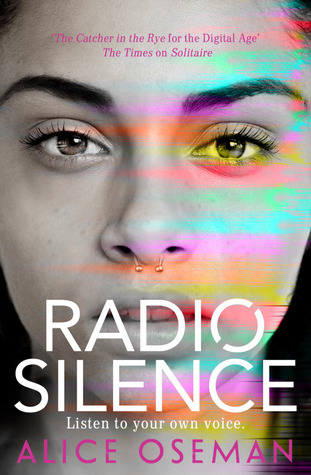 Title: Radio Silence
Author: Alice Oseman
Page Count: 403
You know when you read a book and it's so good that it feels real? When it has such a tight hold on you that you get actual nerves because you want everything to work out and you're stressed for the characters? When you laugh and cry and feel so connected to the story?
That, my friends, was Radio Silence for me.
I loved utterly everything about this book. Not only did I connect to and adore the main characters, Frances and Aled, there was also a phenomenal cast of side characters that really helped fuel the novel. There was so much diversity- all the main characters were LGBTQ+ and that was amazing.
The messages about school were so powerful and discussed so well. I'll leave it to you to discover if when you read it but basically, there was a lot of talk about how you don't have to go to college to be successful and the true stress that school puts on a student's life. Though I was thoroughly confused by the British school terms. Sixth form? GCSE? I was quite lost. XD
I could truly keep talking, but here's what you should know about Radio Silence. It has friendships, diversity, platonic relationships, and incredibly potent themes.
trigger warnings: parental abuse, animal abuse, talk of mental illness
This, without a doubt, earned a full five stars!
★★★★★
Radio Silence is such a hugely important book. It is the contemporary of all contemporaries, and I will be recommending it and boosting it forever.
Title: Famous in a Small Town
Author: Emma Mills
Page Count: 320
Hi, hello, I am obsessed with all books by Emma Mills.
Just when I thought no, it can't get better, it did. I'm so happy this book exists, because its amazing friendships, cozy small town vibes, and another thank you very much Emma Mills soft cinnamon roll boy filled my heart with such joy.
What really won me over in Famous in a Small Town were the characters. First of all, the friend group. Each friend, though technically "side characters," held their own and had a unique personality that contributed to the friend group. I love them dearly.
You also get to know the main character, Sophie's, parents, the precious family that she babysits for, and the love interest, August, who rivaled Gideon from Foolish Hearts, not going to lie. If you want evidence I shall simply leave you with the fact that he reads books out loud to his young nieces with accents for the different characters.
If you're looking for a book to warm your soul, give you all the platonic relationships, just the right amount of romance, this book is definitely for you! Also, there is a plot twist that you most likely will not see coming. We all know this is the best kind of plot twist.
trigger warnings: loss of a loved one, drug/alcohol usage
This is the second Emma Mills book that I bestow a five-star rating upon. 😉
★★★★★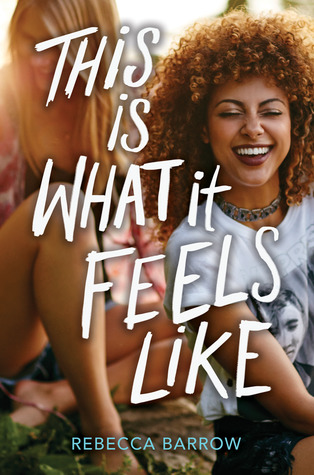 Title: This is What it Feels Like
Author: Rebecca Barrow
Page Count: 400
One thing is that is not talked about enough in YA contemporary is friendship breakups. The truth is, these happen- and in the life of a teenager, they might happen more or have a larger impact than romantic breakups. This book is about the aftermath of a friendship breakup and it was amazing.
The three main characters, Dia, Jules, and Hannah all had such depth. Dia is a single teen mom, Jules is dealing with a toxic relationship, Hannah is recovering from alcohol addiction. Each of them has their own struggles and you get to know each character better because the POV alters between the three of them.
This story had amazing family relationships, a deep look at the importance of music in each of the girls' lives, and overall, just so. much. passion.
Ultimately, it's about rebuilding and healing. The struggles of trying to recreate a friendship that had broken are so relatable to so many people. I was able to connect and I hope you are too.
trigger warnings: car accident resulting in death (prior to the novel's beginning), alcohol addiction (in recovery)
While I loved this book, it didn't have that special *something* that would lead me to give it five stars. However, it was still wonderful!
★★★★☆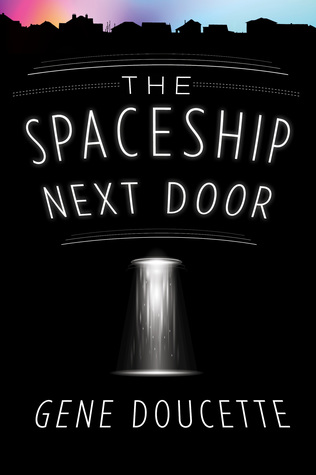 Title: The Spaceship Next Door
Author: Gene Doucette
Page Count: 353
This book was everything I never knew I needed in a YA novel.
Did I know it was going to be sci-fi? Yes. Did I expect to be as amazed as I was? No, not in the least. I felt all the emotions with this book- I laughed, I choked up, and at times, I was scared as heck. It wasn't the best idea to read this late at night when I was the only one in my house awake.
I loved the suspense, worldbuilding, and curiosity in this novel. The author did a great job of describing the city in which the spaceship has landed, and I really felt like I could picture everything and it seemed like I knew all the town's quirky residents very well. The main character, Annie, was full of curiosity for everything, and I thoroughly enjoyed reading her thoughts and whims.
Annie and undercover government agent Ed had so many adventures that kept me guessing the whole time. I legitimately saw zero of the plot twists coming and I LOVE that?? I was on the edge of my seat. And, like I said, pretty scared, because aliens and lone spaceships and start minor spoiler<zombies>end spoiler.
I'm not a sci-fi reader at ALL, so the fact that I enjoyed this so much should really speak to its brilliance. I would reread this in the future!
trigger warnings: family member with cancer, mild violence (defensive)
I ended up giving The Spaceship Next Door four stars because it had a bit of a slow start and, like I've said before, just lacked the feeling I needed to give it five stars.
★★★★☆
Title: Emmy & Oliver
Author: Robin Benway
Page Count: 352
This was one of those books that had been on my TBR forever and ever and ever. I honestly thought I'd never read it and for some reason every time I saw the cover I was convinced it was middle grade and that it had something to do with teddy bears??? I don't know why it just gave me teddy bear vibes.
Well, I'm here to proudly announce that I was utterly wrong. Emmy & Oliver was a beautiful, soft contemporary about friendship, finding your way back to someone, and growing up. I loved it with every fiber of my being.
When Emmy and Oliver reunite after ten years, things are realistically awkward. Their relationship takes nurturing and time- after all, they're both starkly different people than they were when they were seven. Emmy's friendship groups feels realistic- they're there for each other, they're hilarious, they're random. Equally realistic was Emmy's relationship with her parents and the struggles she faced because of their overprotectiveness.
That's the word for this book: realistic. The reason I loved this so much was because it didn't feel overexaggerated or even particularly loud. It was soft, quiet, and beautiful in its own bubble of contemporary bliss.
trigger warnings: parental kidnapping, underage drinking
So, so good. If I could reread it a thousand times over, I would.
★★★★★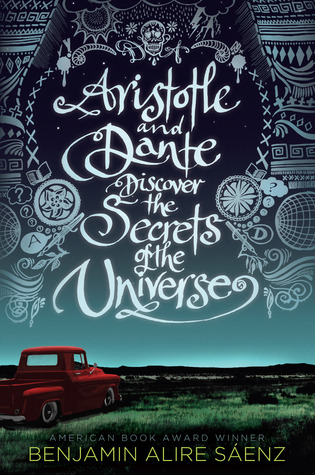 Title: Aristotle and Dante Discover the Secrets of the Universe
Author: Benjamin Alire Sáenz
Page Count: 359
Aristotle and Dante Discover the Secrets of the Universe is a lyrical, beautiful story about two boys learning and growing. It grabbed ahold of my heart almost immediately and I was captivated from the get-go.
I loved that this story was simply about Ari. It was about his experiences, his curiosity, the good and bad things in his life, his relationships with his parents, and, most centrally, his relationship with his best friend, the soft and precious Dante.
Reading this book was like coming home, even though it was my first time ever hearing the story. It was familiar, it was comforting, it was slow and steady. I watched Ari and Dante grow up and it was beautiful and amazing and I cried a lot.
While watching these boys find themselves, I realized that everyone can find a little bit of themselves in this book too, and I think that's what made me love it so much. It was just the best okay??
trigger warnings: transphobic violence, homophobic violence, family member in prison
Lovely, wonderful, everything in between. The only downside for me was that the plot wandered around quite a bit and that there wasn't really a set plot?
★★★★☆
Well. That was a lot of mini reviews.
I truly enjoyed writing all of these, and now I just want to reread all the books?? Shh, no Olivia, your TBR is too tall for that. I really recommend these novels, and I hope you found a book (or six?) to add to your already-monstrous TBR. 🙂
Expect another mini reviews post in the near future, because I'm catching up on all the books I missed reviewing! There are so many. But it's okay I'm okay.
Thank you for making it all the way through this post! A smol reminder that I do have a Q&A form you can fill out if you have any burning questions that you'd like me to answer in an upcoming Q&A.
Have you read any of these books? What were your thoughts? Which ones do you want to read now? What do you look for in a perfect book? I'd love to chat with you all in the comments.