Sadly, summer has come to close for me.
It hurt me to write those words (even though I can't pretend I'm not excited for fall), but they're true. My new dance season started this week, I go back to school this Thursday, and those are the signs that summer 2019 has truly ended.
For the sake of holding myself accountable for what I did and didn't accomplish this summer, and also just to have fun, I decided to go back and reread my summer bucket list post from June. This was originally a collab with Annie, and it was a great way to start off the summer! Except now it's time to see just how drastically I failed (or achieved) my goals.
Part of me is sad when I look back on my post from June because I was so full of excitement for summer when I wrote it, but the other part of me knows that summer happened, it was amazing, but now it's inevitably time for it to end.
Without further dramatics, let's get into the post!
Read 30 books.✅
Technically, at this moment I have read about 28.75 books, but I'm going to count this goal as a success because I also technically have three more days of summer left, and I have no doubt that I'll be able to read 1.25 books in that time.
I was able to read a lot of really great books this summer! Some of them are my new favorites, some of them not so much, but I generally enjoyed all of them. I'm glad I was able to have enough time to read a lot during my break from school.
I feel like I should shoutout some of my favorite books I read this summer! Here are a few, in no particular order. 😉
Okay, two of these are fantasy and two of them aren't even YA?? Clearly, this summer took me out of my reading comfort zone, but I'm not complaining about it.
Do random acts of kindness.❌
I didn't do this, and I'm disappointed in myself.
The thing that's the most disappointing about this is because I easily could have done this! The truth is, I forgot I put this on my bucket list until I went back and looked at my list to write this post.
The good thing about random acts of kindness, though, is that you can do them at any time of year and you can do them whether you're busy or have an open schedule! So I will definitely be doing this in the future.
Watch (most of) the Marvel movies.❌
This is definitely the goal that I'm the saddest about not completing. Although I didn't completely fail, to be fair. Just mostly failed.
The backstory behind this goal was that Annie and I made a pact that I would watch the Marvel movies with summer, and she would read and watch Harry Potter. I feel bad that I didn't uphold my end of the deal, especially since I'm pretty sure she upheld her end a lot better than I did mine!
I think the reason why I failed so badly at this was first that I underestimated the difficulty of actually attaining the movies and I also underestimated how often I would be watching movies in the summer. It was easy to look ahead at summer and say how easy it would be to watch a lot of movies, but the reality is, I don't watch movies every night or even all that often.
There's not a good excuse for me not achieving this, but I will say that I did watch five Marvel movies, and I genuinely loved the ones I watched.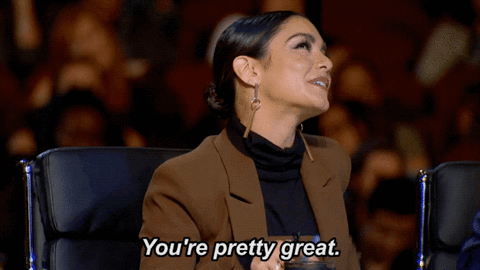 That's my reaction to all the Marvel movies I've watched so far, which are:
The Avengers
Avengers: Age of Ultron
Doctor Strange
Avengers: Infinity Wars
Spiderman Homecoming
Don't worry, this doesn't stop here. I'm going to keep watching until I have watched all the Marvel movies because I really have enjoyed them way more than I ever thought I would have!
I never thought I was the type of person who watched action movies, but I have discovered that I am exactly the kind of person that watches action movies. Yes, I may have screamed out loud once when the Hulk jumped out of nowhere, but mostly I've held it together and actually watched the movies without covering my eyes!
Plus, the characters in the Marvel movies are AMAZING, I literally laugh out loud at all the funny parts, and the dramatic music makes me emotional at times. I'm really excited to keep on watching more, and my new goal is to watch all through the school year and next summer and have them done then! Shoutout to Annie for inspiring me to watch them. I'm sorry I failed at our deal though. :((
Get a tan.✅❌
I'm really unclear on whether or not I should count this as a success or failure, so I'm just going to count as it both since I crave success.
It's not like I didn't get a tan? I definitely was paler at the beginning of summer. But I still would consider myself a very pale person, and I'm still not as tan as your average person is during the winter. It's sad, but true.
Have a book and movie Harry Potter marathon.❌
I know, I know. It's saddened me greatly that I didn't do this.
This gif is me staring off into the distance, regretting this turn of events and questioning whether or not I even deserve to be a Harry Potter fan right now.
Just kidding! Mostly. While I am sad, I ultimately decided not to reread the series over the summer because a) I just reread it in January/February and b) I wanted to save my reread for a time I really felt like I needed it.
I was able to go to the library a lot this summer and also had a stream of new books to read, so it just didn't make sense to return to Harry Potter. I'm planning to do my reread in fall or winter when I'm feeling stressed from school and want a series to fall back on that will comfort me and be familiar.
As for the movies, my friend and I (who I marathoned the movies with last November) decided we would wait and do it over one of our school breaks. We did get matching Hufflepuff shirts to wear though, so that's exciting.⚡️
Prepare for school stuff next year. ✅
Looking back, I definitely could have prepared more, but I think I did enough to have properly achieved this goal.
I prepped for the SAT using Khan Academy, which I highly recommend if you're looking for an online source to prepare with. It has customizable practices and is free, plus there are literally thousands of videos on there in case you've forgotten something. Just like I forgot all of geometry. *throws peace sign*
I didn't end up having to prepare for as much school stuff as I thought I would because I was planning on taking an advanced chemistry class next year, for which we had summer preparation homework, but about a week ago my counselor emailed me and told me taking the class didn't fit in my schedule. I was disappointed, but at least I don't have to do more summer work, so it ended up working out for the best.
Keep improving and growing my blog and bookstagram. ✅
It makes me very excited to say that I did achieve this goal! Making goals with the general endpoint of "growth" in mind makes it easy to say you've achieved it, since growth can be very small or very large and still be "growth."
If that makes any sense whatsoever.
Okay, that was definitely confusing. I just meant that unless I completely abandoned my blog and Instagram all summer, I would probably have some semblance of growth, and could therefore count this goal as achieved.
However, I feel like I was able to grow a lot over the summer! I posted more often than I ever have, I blog hopped and discovered many new bloggers, I stayed active on bookstagram and grew my following. I would say that besides hanging out with family and friends, one of my main focuses this summer was improving my blog and bookstagram and that paid off.
Shoutout to all you amazing people for making blogging especially wonderful for me this summer, because the blogosphere is one of the main reasons I find the motivation to continue working hard on my blog!
Go on adventures. ✅
Adventures most certainly occurred this summer. This was my first summer with a driver's license, and I have to say, it made my summer way better because I could just…go places with my friends?? Even if our parents were at work??
Some things adventures I had:
My friend and I went to the top of a parking garage and took dance pictures of each other
I had a sleepover on a trampoline!! apparently, I'm basic™
Lots of trips to the local snowcone place with friends and my sister
I went to Nashville! (a post is to come on that, I promise)
Pool trips with pals
I got a really drastic haircut, and I feel like this should count as an adventure because I still can't believe I actually did it
It was an adventurous and fun summer, to say the least!
Make bread from scratch.❌
All those days I spent at home, watching Netflix or reading and yet I never actually ended up making bread?
Wow, I can actually HEAR Andy's voice in this gif. Anyway, while I'm disappointed in myself for not baking bread, this is something that I can easily do at any other point in my life. It wasn't specific to this summer, so at least one positive side to this is that I can literally do this any other time I want?
Find new shows and new music. ✅
This summer I discovered two new TV shows, in addition to rewatching episodes of some of my all-time favorites (Friends, Gilmore Girls, Glee, The Office).
The first show is Queer Eye! This was recommended to me by my sister and one of my best friends, and once I started watching it I started noticing that a lot of people on the blogosphere watch it too. I couldn't recommend it enough!
I love the Fab 5, it's so heartwarming, it has its funny moments, and it's just so entertaining and makes me feel happy. I wouldn't say I binge it, just because I don't usually binge reality TV, but if I need a pick-me-up or am having a boring day, I will 100% go to this show. I'm currently on season 3 of 4!
The second show I watched this summer was Riverdale. I completely missed the hype when this first came out, but my best friend and I decided to watch it together this summer, and it's been seriously so fun!
It's definitely not perfect, but my friend and I have fun laughing at the unrealistic or cringey parts, and I got really invested in the characters and storyline. We finished season 3 just a few days ago, but they're currently filming season 4, so I'm glad that it's not over yet.
Finally, I also was able to find lots of new music this summer. I made a playlist at the beginning of June and every time I discovered a new song or became addicted to a song this summer, I added it to the playlist.
I've been playing this playlist on repeat- every time I'm getting ready for the day, cleaning, driving anywhere- and it's the perfect representation of my summer.
There's a lot on here, from all of Taylor Swift's new releases, to some songs from Ed Sheeran's new album, to throwbacks, to random songs I discovered and started to love during the summer.
I love listening to music, and hopefully this gives you an insight into what I listen to on a daily basis! Because this literally is…exactly what I listen to on a daily basis.
Well, I have to say, I didn't do quite as horribly as I thought I was going to on these goals. Even for the ones I didn't succeed on, at least I was partially there and it wasn't a complete and utter failure. 😉
Like I said, I'm sad to be saying goodbye to summer, but fall is my favorite season, so I know good things lie ahead. If you're still on your summer vacation, I hope it's wonderful and glorious and you take advantage of every second. If you're also returning to school, like me…you got this, I believe in you, we can do it!
Thank you all for reading! I hope you have an amazing day.
How was your summer? Did you go anywhere fun, tell me about it! Have you watched any Marvel movies? Do we share the same music taste? I'd love to talk with you all in the comments.
Credits for the image in my featured image >> Photo by Daniel Hjalmarsson on Unsplash