I'm a big fan of realistic fiction.
And it's true, the YA contemporaries and novels that I read on a daily basis are normally pretty realistic. That's one of the reasons I like them so much- I love relating to the characters and their situations, I enjoy books set in a world I already know so much about.
But I have to say, throughout all my time as a realistic fiction reader, I have come across many a thing that don't seem to happen in real life- at least not to any old average person. Me being an average person, I tend to notice these unrealistic things.
One day, when I was complaining to myself about the unrealisticness of it all, I realized that this would be the perfect topic to write a blog post about! What better way to figure out if other people agree with me on these or if maybe my life is the odd one out instead of the lives of the characters I'm reading about?
I won't know the answer to this question until after I publish this post and read the comments from it, though, so without further ado, let's get into my list of things that happen in books but don't happen in real life. Or at least don't happen in my real life.
1.) People play Dungeons & Dragons.
I genuinely want to know, does anyone out there actually play D&D? I have never seen it in a store, I've never known anyone that plays it, and I definitely would never have heard of it if not for books and television.
I feel like you always hear this mentioned randomly in books- like one of the characters plays it in their spare time, or their older brother does, or it's in their game closet. I don't know, I just know that I personally could not tell you a time I've heard of it in real life.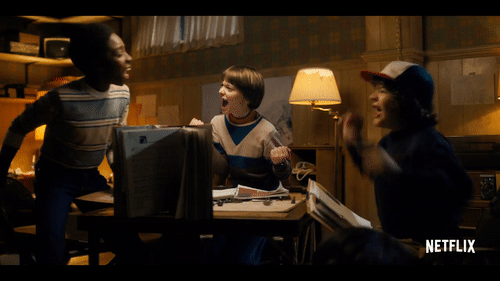 (We can't forget the cutest group of kids to ever grace our television screens playing D&D, though. Also, where's Mike?)
I feel as if this one could just be me, but I'm pretty interested to find out if it is, so if you or someone you know is into D&D, let me know! Otherwise, I'll probably spend the rest of my life thinking this is something that only happens in books and is not actually a popular real-life activity.
2.) People sleep over at their friend's houses on weeknights.
I'm pretty certain this isn't just me having strict parents (because I really don't?) when I say that I would never be allowed to sleep over at a friend's house on a weeknight unless it was very special circumstances. Circumstances…that have never happened to me in all my years of living.
That just presents all kinds of problems. First of all, what about school the next day? Isn't it strange to get ready for school at someone else's house, away from all your stuff? Won't you be tired for school if you stayed up as late as someone would at a sleepover? Even if you didn't stay up as late as normal, wouldn't you lose sleep from likely sleeping on the floor anyway? Couldn't you just have a sleepover on the weekend?
Every time I'm reading a book and two characters are hanging out at each other's houses at night, and then they decide to just have a sleepover…on a school night…I'm genuinely confused. Like, does this happen in real life?
3.) Adults called children "children."
I notice this the most in middle grade series that I've read- to name a few off the top of my head, The Mysterious Benedict Society and A Series of Unfortunate Events. This is not to call out these books (I love them both very much), it's just evidence of this occurring.
I have been a child very recently, in the grand scheme of things, and I can truthfully say that I don't remember me and a group of other kids ever being referred to as "children" when being addressed.
Guys? Yes. Y'all? Of course, I live in the south. Kids, kiddos? Always. But…children? I have never heard a teacher or other authority figure say something along the lines of, "Children, this is what we are going to be doing today" or "children, please get out your notebooks now." That just sounds so odd to me.
Only Chandler Bing actually uses the word children…though I'm pretty sure when he does it, it's meant to be ironic. Possibly the usage of "children" to address a group of children was more popular in the past than it is now? But if that's true, why is it still being used even now?
4.) Somehow having a job, hanging out with friends, having a boyfriend/girlfriend, and studying and making great grades all the same time.
Hello every high school protagonist in the history of ever, I'm talking to you.
I barely have any free time during the school week. All I do is wake up, go to school, go to dance, do homework, and go to sleep. Or sometimes sleep is taken out of the equation, to be honest. People that I do know that have a job don't have any other after-school commitments besides homework. And to be honest, not that many people in my high school are even in a relationship. Not one of my close friends are, and it would be hard for me to think of people who are.
Maybe it's just me, but when the protagonist has all these commitments and somehow still manages to fulfill them all, I think that's just a little unrealistic.

5.) Basically anything involving bedroom windows.
Can someone please tell me in what perfect world you live next door to your best friend or your crush (or better yet, your best friend who you have secret unrequited crush on) has a bedroom window across from yours and you can see into each other's windows?
Because this seems to happen way too often, and I have to say, the chances of this seem very slim to me. Personally, I don't really know the neighbors which my bedroom window is beside all that well, and besides, my room is on the first floor of my house so my view is the fence, not another window.
Continuing on with the trend of bedroom windows, do people actually sneak out of their bedroom window? Do their boyfriends or girlfriends actually climb ladders and tap on their bedroom windows?
I love Jughead Jones, but I've got to say, I think this is limited to teen television shows and young adult novels. I have a screen on my window that would make it pretty difficult to get out of. I have to say, I also don't see the appeal of balancing on a story-high ladder…it sounds like an emergency room visit waiting to happen.
6.) Walking into your friend's house unannounced.
I have friends that I am very, very close with. Friends whose families know me well, who I have gone on vacation with and essentially spent my summers at their house and have seen me grown up.
And even through all that, I can't imagine a scenario that involves me opening the door to their house and just…walking in? Is this weird? Am I the only one who doesn't go to my best friend's house uninvited, let myself in, and start eating their food?
I love reading about best friend relationships in books, but that part has never been something I could relate to, or really known anyone who could relate to. Please let me know if I'm alone on this, because I'm genuinely curious.
7.) Running away from home as a kid.
Maybe I was too much of a goody-two-shoes. Maybe I was just a scaredy-cat. Maybe I didn't even know what running away was. But I can honestly say that I never once considered running away when I was a child.
I feel like running away is brought up so many times in books. There's sometimes an internal monologue when the character is remembering packing up a suitcase as a kid and "running away" to the end of the block or to their friend's house before returning. Or, if it's a middle-grade book, there is a possibly an actual running away scene as part of the action.
What? Where are you going to go? Am I the odd one out for not running away as a kid? Someone help, because this is causing me somewhat of an existential crisis.
8.) Fake dating is a thing that happens in high school.
Now we're getting into trope-land, which maybe isn't the best place to be for this post, so after this I will steer us to calmer waters. 😉 But I just had to put this one in here because I have read multiple (more than just To All the Boys I've Loved Before, though that would be the most well-known) novels with fake dating in high school.
I can't say I know about much real dating that happens in high school, much less fake dating.
Now that I think about it, this is such a strange concept, and I would be shocked if it actually happens in real life. I actually just Googled it to see if people actually pretend to have a relationship with each other in high school or if it's all fiction, but I'm already confused Google is confusing.
I can see this happening in the world of celebrities for sure, because I'm positive that fake celebrity relationships exist just for the sake of the fans and the money that can be brought in if people think the two stars of a romance movie are actually dating. (Thank for you enlightening me on this, Evelyn Hugo.) But in high school, I just don't see this happening anywhere besides books.
9.) People go to school dances and actually dance (in the 21st century).
I wish this was still a thing like it is in books! Sadly, as far as I know, it isn't. But if it is where you live please tell me and I'll be jealous.
I added a qualifier to this one because I think this is a more recent development, especially since back in the day they had dances like the Jitterbug and people actually quote unquote went dancing. Now we have Tik Tok dances. I think I was born in the wrong century…
But back to school dances! My high school has homecoming and prom, which I think are the typical dances. (Some places also have Sadie Hawkins, I believe.) However, I don't think anyone actually goes to the dance to actually dance. If you do go to the dance (which is kind of considered uncool? I don't get it either), there is not much actual dancing, there is just a lot of standing around with your friends and feeling awkward about the fact that you're in a fancy dress in the cafeteria at night with a lot of people who you vaguely know from your various classes.
If only this was something that would happen at my high school. If people do dance at all, it's usually with your friends or the person you're dating and there isn't the whole "who's going to ask me to dance" culture.
Is this just my school? Do other people have fun homecoming and prom dances like in books? Please enlighten me.
10.) People don't know that books other than Harry Potter exist.
Don't get me wrong, I'm the first person to tell you to read Harry Potter (and I have…on many occasions). But I have to admit, I find it interesting that the only books people ever seem to mention reading is the Harry Potter series.
Is it because it's so well-known? Do you have to get permission to name drop a book within another book? Can you only name drop a book if it's past a certain point of fame? Honestly, I have no idea.
Of course I get excited when characters are reading Harry Potter- it's my favorite series, after all. However, I wonder if people who aren't avid fans like me are tired of their favorite books getting shunted to the side. In real life, I can think of quite a few books that are pretty popular with teenagers: Percy Jackson, Shadowhunters series, To All the Boys I've Loved Before, and The Fault In Our Stars are all books I've heard people discussing in person. Not just online, or else that list would be much longer.
There we have it, the ten things that happen in books but don't happen in real life! Or at least don't happen in my real life. Part of me is wondering if I'm going to read all the comments on this post and discover that I have, in fact, been living under a rock and everything I've written here is completely invalid.
That being said, I hope you enjoyed this post! I've had this idea for a while, and I'm excited to have finally written it and to share it with you all. Wishing you all a great week, and best of luck to all those taking finals or finishing up your semester! I'm right there with you, and we will make it through. ✨
Can you relate to any of these? Did any of these actually happen to you in real life? Please tell me where I went wrong, I'm very curious. I'd love to talk with you all in the comments!
Photo by Vladimir Mokry on Unsplash >> Credits for the image in my featured image!