It may surprise you to hear this, but I'm not really the rebellious type.
Well, at least if you don't know me very well, that could be surprising. If you do know me, then it probably makes sense that I've always been more of a goody-two-shoes type. But when it comes to books and reading, I do have a few habits that are frowned upon by the general reading population. I always feel *slightly* called out when those are brought up, so I was very excited to learn that there is a such thing as the Good Reading Habits Tag!
I was tagged for this by the lovely Erin of Kitty Jade Blog (read her post here), and I can't thank her enough for the tag. This topic interests me so much, and I'm really looking forward to exposing myself in a positive way in this post. Plus, this is my first tag of the new decade, and it looks like a fun one to start things off with!
The only rules are to pingback to the creator's post, list some of your good reading habits, and nominate some of your blogging friends to also participate in the fun. I'll be nominating some people at the end- for now, let's get into the habits!
I (almost) always read the book before watching the movie.
I want to preface this with two things. First of all, I don't think it's necessarily a bad reading habit to read the book after the movie, I just think it's more generally accepted as a good habit to read the book before. (I actually wrote a whole post about this once, because controversial.)
Second, I have definitely messed this up before! Sometimes I don't know that a book exists for a movie (example, with the Princess Bride) and I enjoy the movie multiple times before ever realizing that there is a book and I have been accidentally going against my principles.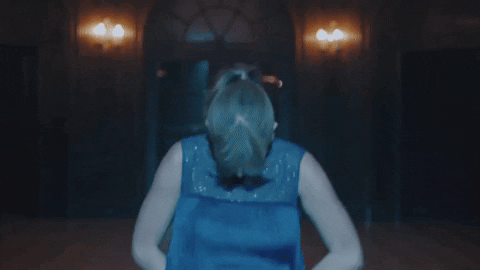 This is accurate footage of me loving a movie, then realizing it's a book that I haven't read yet, and slowly walking away.
All of that to say, for the most part, I follow the rules of seeing the movie after I've read the book. I also want to take this opportunity to let you know that you should definitely, definitely go see Little Women! It's my new favorite movie. I love every part of it with all my heart, and it's completely worth going to see. The cinematography could not be more beautiful, all the actors are phenomenal, and it is so true to the book's storyline. I want to go see it thirty more times.
I get most of my books from the library.
I am very privileged to live close to a very good library! It generally has most of the books I'm interested in reading (albeit a long wait for a book to be checked back in is common), and I do read most of my books through the library.
This is a good habit because it means I'm not spending money on books. I hardly ever buy books, actually- I only get them if I have a gift card or if a relative asks for a Christmas or birthday hint, and I give them a list of potential books I would like to read. I can't remember the last time I spent straight-up money on a book, and I would consider that a good thing!
Of course, lots of bloggers receive free books from publishers or get ARCs, which is amazing. I also know that I am very lucky to be located next to a good library, and sadly, many people don't have this same privilege. I wanted to include this side note to point out that this good habit isn't one that's available to all, and I am not saying that buying books is a bad habit.
I keep my books very organized.
I would say that, for the most part, I am Type A. People in my life know me as being organized, neat, and on top of things that need to get done. That's not to say I'm not a procrastinator, it's just to say I'm good at appearing collected on the outside even when I'm not on the inside. This definitely transfers to my book organization.
This is what my bookshelf looks like as of right now! It's not organized by color or anything (I wish I was that level of aesthetic), but I definitely have a system. Each shelf has a category: the top one is fairytales and classics, the second is fantasy series, the third is middle grade series, etc. (The bottom shelf is my young adult books!) Then to the right of my bookshelf is where I always stack my library books, so I don't get them confused with the books I own.
Every time I get a new book, it requires a lot of shifting since each book has to stay with its category. But I feel as if this organization is mostly a good thing, as it makes it where I can tell you exactly where any book is on my shelf at any given moment.
I read a variety of new releases and backlist books.
Before I started book blogging, I never paid attention to when the book I was reading was published. The only books I was anticipating was the next installment of The Heroes of Olympus, because Rick Riordan really got 12-year-old me with those cliffhangers.
Now, I do pay more attention to the publication date of a book- I often check it when I first open a book, and I have been made aware of certain release dates thanks to the blogs I read. But even now, I wouldn't say I'm hyper-into new releases. I've never done an "anticipated releases of ___" post (though I love reading them), and since I don't receive ARCs, I'm not up to my ears in unreleased or newly released material. I get most of my recommendations off of the blogs I read, which means sometimes I'm reading new releases, and sometimes I'm reading books that have been published two or three or five years ago. Or 150 years ago, sometimes.
I don't know if it's necessarily a bad habit to only read backlist or only read new releases, but I do think it's a good thing that I have a variety in my every day reading. It makes things more interesting, and I hope it makes it to where I'm not talking about the same two books every two seconds!
Belle is actually me talking about Foolish Hearts or Harry Potter or A List of Cages every two seconds. You know, I think I'll start to work on my repetitiveness.
I read all the books in a series, most of the time.
We all know how it goes. You read the first book in a series. Then you have to wait for the second book to be available (maybe it's unreleased, maybe it's not at your library or bookstore), and by the time you get your hands on it, you either feel like you need to reread the first book again in order to remember what happened or you just feel as if this is all too much work, and the process ends there.
I would say I'm fairly good at actually finishing out my reading of the series instead of just giving up. Of course, there are exceptions. coughCARAVALcough For the most part, though, I take my commitment to a series pretty seriously. If I'm going to spend time getting invested in characters and a plot, I want to see it through.
It may take me a lot longer than it should, but I will be a good little bookworm and complete the series. (Unless I don't like it. But I think that goes without saying.)
Well, that's my list of five good reading habits I have! A huge thank you again to Erin for tagging me, I truly appreciate it and I had a lot fun participating in this. Please go read her post and view her blog!!
I'm going to nominate a few friends to participate in this as well, as the rules decree, but of course there is no pressure whatsoever to participate. If I don't tag you but you'd still like to take part in this, also feel free to, I would love to read any posts about this!
Macey // Tiffany // Taasia // Charis // Maha // Sophie // Kelly // Caitlin
This post got me thinking about how fun it would be to do a reverse version of this sometime- where I talk about my more unpopular reading habits. I don't know if I necessarily have bad habits, but I definitely do have some habits that I feel as if I would get lowkey judged for partaking in. But hey, the point of the post would be to expose myself in a friendly, safe environment. 😉
Thank you all so much for reading! I hope this post could be in some shape or form relatable and entertaining to you. I'm wishing you all the best of days and I hope each of you have a wonderful week ahead of you.✨
Do you share any of these habits? What are your good reading habits? Would you want to read a post talking about my unpopular habits? I would love to talk with you all in the comments.
Photo by Alisa Anton on Unsplash