There are over 130 million books in the world.
What?! 130 million. How am I ever even going to make a dent in that number. Yet with all the options us readers have in front of us, we still manage to pick and choose certain books to add to our lists of books "to be read" and then continue to pick an even smaller selection from that list to actually read.
Although it seems like maybe we're just magical (and everyone else is just a Muggle, sorry), the thing is, each reader has an internal checklist complete with characteristics that they want a book they read to fit. In this post, I'm going to be discussing what makes me want to read a book!
There are so many factors, some more obvious than others. Without further ado, here we go. 😉
It was recommended to me!
All you marvelous, wonderful, amazing book bloggers out there…this one is for you.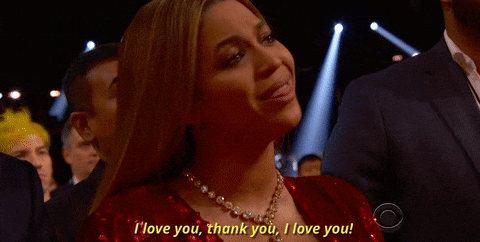 When I read another blog post, whether it be a book recommendations post, a book review, a tag with book recs, a wrap up post, I always have Goodreads open in the next tab over. GOODREADS IS ALWAYS WATCHING ME.
Over the long stretch of time I've been reading blogs, I've learned which blogs also have my same taste in books, and when they say they love a book, I instantly add it to my TBR, too! I have no idea where I'd be without all the awesome bloggers out there.
The cover is pretty…
Yes, I admit it, I can be a shallow person.
I can *sometimes* judge books by their covers! But don't we all do it? I mean, when I'm browsing in the library or reading a post and I see a beautiful cover, I'm intrigued. I look up the book. And I'm more likely to add it to my TBR and end up reading it.
I love Mary Poppins, but this is a fate I can't escape from. Judging books (literal books, not people, of course) by their cover is inescapable for me.
It has diversity!
One thing that the blogging community has done for me that is so wonderful is opened my eyes to all the diversity that can and should be in books.
I want to read books with all the diversity! I want to read books with characters different than me! I want to learn about new cultures! I want other people to see themselves represented in a book!
I won't not read a book because it isn't diverse (although in this day and age, I feel like all books should be?!), but it definitely makes me even more interesting in reading it if it is.
The setting is interesting.
One of the reasons I love to read so much, and one of the reasons I think a lot of others also love it, is because you get to go on adventures.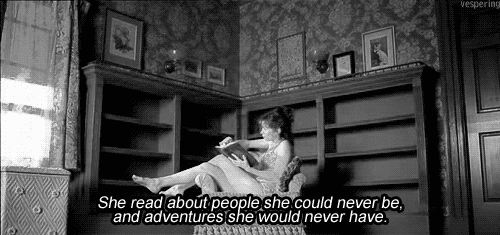 I'm a homebody, but part of me really, really wants to travel. That part of me gets to live through books. When I'm reading a book's synopsis and I see that it's set somewhere I've never been before, especially if it's a country that is foreign to me, I get so excited.
Usually that means the book will be full of vivid descriptions of somewhere that I've never been, and I love getting to immerse myself in a new world. I'll always be more likely to read a book if I'm already drawn in by the setting!
I already want to get to know the cast of characters.
Whether this comes from reading a review and hearing about how great the characters are (I adore soft cinnamon rolls, chivalrous boys, and have a soft spot for bookish characters too or from falling in love at the synopsis, I can and will pick up a book simply for the characters.
I could never miss the chance to find my new book best friend (or love of my life)! If the characters look interesting, I'm in.
It's a sequel, part of a series, or related to a book I love.
I love, love, love series!
If I hear that another book is coming out that's going to follow one I already loved??? Yes, I'm already halfway to Barnes & Noble. And if there's another book in a series?? Already preordering it! Most of time, I don't even stop to read what it's about because I'm just too excited.
In conclusion- if a book is related to a book I love in any way, shape, or form, I'm 139048% more likely to read it.
I've also adored other books by the author.
Here is an accurate depiction of me when an author I love releases a new book.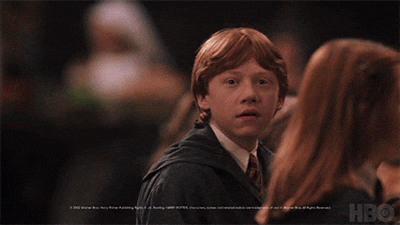 First of all, a moment of silence for how utterly adorable Ron and Harry are in this. *sobs quietly* All right, back to the post. XD
When an author writes a book I love, obviously from that point on I can't wait to read the rest of their books and once I have, I can't wait for them to write more! It's pretty much a given that if I've read a book by them and adored it, and I see they have another one, I'm going to add it to my TBR and want to read it a lot.
There we have it, a guide to why my TBR is currently at way more books than I think I'll be able to read in, well, the next few years.😅And at the rate I'm going, I'm pretty sure that won't change anytime soon? But hey, it's the best kind of problem to have.
I hope you all enjoyed this post, thank you so much for reading it! If y'all like this post, I might do a part two sometime and talk about things that initially make me not want to read a book, that could be interesting.
What makes you want to read a book? Do you agree with any of my reasons? I'd love to chat with you all in the comments.