So, I'm obsessed with Harry Potter.
I've definitely lost track of how many times I've said this. Somewhere in the range of, I don't know, a billion? It's pretty much a guarantee that you're going to find Harry Potter gifs, references, and fangirling on my blog. All of this obsessing got me thinking- how do you measure one's obsession with Harry Potter?
Obviously, there's not a spectrum out there that can tell you exactly how obsessed with something you are, and as far as I know, there isn't a Harry Potter-specific one. So, me being me, I have no choice but to create this spectrum myself!
The spark of inspiration for this post came to me one night when I was about to fall asleep. I was so scared I would forget all about it that I got up from my semi-asleep state and wrote it down right away. That shows you how dedicated I am to Harry Potter. In today's post, I'm going to list the levels (1-10) of being obsessed with Harry Potter. They start off mellow and Muggle-esque and then proceed to more obsessive waters.
This is all in good fun, and the purpose of this post isn't to call anyone out, besides myself of course, because we all know I'm level 100 obsessed and it's getting out of hand! So without further ado, let's see how obsessed you are with Harry Potter.⚡️

You know what Harry Potter is because it's a part of pop culture at this point. You vaguely know about Harry, Ron, and Hermione, and you also kind of know that Dumbledore is that wise old guy who looks like Gandalf from Lord of the Rings.
But magic? Fantasy? Witches and wizards? No, this isn't really your scene, so you decide to stay out of it. You're a muggle, but you're okay with it.

You've always had it in the back of your mind that you should read Harry Potter someday. Every time someone tells you about the books or movies, they good, but it's never enough to convince you to actually read the books or rent the movies.
It's possible you've seen bits and pieces of the movies at the doctor's office or because there's always a Harry Potter marathon on TV somewhere, or heard about some of the book's plot from a friend, but you didn't know what was going on so you didn't pay that much attention.
Maybe I'll read it someday, you think. You never do.
You've definitely read at least part of the first book before. Maybe you got bored, because you didn't last long enough for them to actually get to Hogwarts (why does it take 100 pages for anything to happen, anyway, you wonder) or maybe you read the whole book and then never cared to find the rest.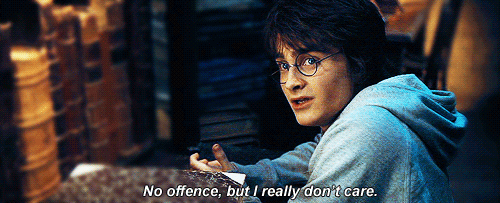 You have seen most of the movies, though not really out of your personal choice. Either your family or friends were watching them, and you tagged along, and you liked them enough to vaguely know the plotline.
You don't know your Hogwarts house, but you're pretty sure you're Gryffindor, because that's what Harry Potter is, and he's the good guy so that must be the good house.

You've seen the movies and read about half of the books, but they weren't entirely your cup of tea. You like them well enough, but you're not necessarily going around recommending them or broadcasting your thoughts on them.
If you go to Universal Studios, you get butterbeer and recognize most of the shops from the books and maybe you buy a keychain. You hear that some universities have Quidditch teams and you laugh, imagining people playing Quidditch without magical brooms.
You like Harry Potter, but you don't find yourself thinking or talking about it often.

This is the midway level, where you've crossed over from acknowledging and enjoying Harry Potter's existence and now are a fan.
You've read the books and watched the movies, possibly more than once. You can hold a conversation about Harry Potter with someone and that might help you make a connection. If you see a Harry Potter shirt in a store, you'll probably exclaim over it for a moment and then realize you don't really need it.
When prompted about your interest level in Harry Potter, you respond with a, "Oh yeah, I liked it a lot."

When someone mentions Harry Potter, you smile because it was such a big part of your childhood. Thinking about Hogwarts takes you back to the days where you secretly hoped you'd be getting a Hogwarts letter yourself.
Back in the day, you had a Harry Potter Pinterest board with memes and gifs from the movies. You used to love it a lot more than you do now, but it will definitely always have a special place in your heart because guys, it's Harry Potter.
You've taken the Hogwarts House quiz on Pottermore, and when asked about key characteristics of your personality, you might mention your house as one of them.

You've reread the books multiple times. You have pretty developed opinions on all of the characters, and if a conversation is sparked about Harry Potter, you get in the thick of it pretty soon to insert your thoughts.
You know that J.K. Rowling's last name rhymes with bowling.
You definitely have a least one piece of Harry Potter merch (a house shirt, maybe a mug) and every time you see a picture of a snowy owl you think "Hedwig." You've watched the movie cast interviews on YouTube when you got bored one day and all the memories came flooding back over you.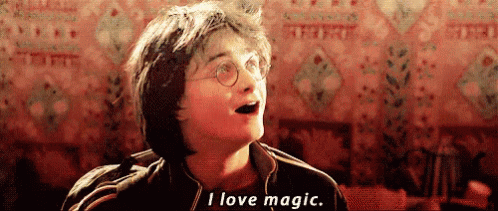 You really do love Harry Potter a lot.

You've had a Harry Potter marathon and you can never stop crying over how small and adorable everyone was in the first two movies. You know that Dumbledore said "did you put your name in the goblet" calmly, and you're salty over the fact that Weasley Is Our King didn't make it into the movies.
Your copies of the books are well-worn, but you keep reading them anyway. If you're having a bad day, you look at pins about your OTPs from the series and they cheer you up. You know that Harry and Ginny were meant to be from the start.
You know exactly what your house (or combination of houses) says about you, you know that Slytherins aren't all bad and Gryffindors aren't all good and that Ravenclaws and Hufflepuffs deserve way more recognition. If you ever get the chance to go to Universal Studios and see the Wizarding World, you would wear your robes and scarf and part of you would pretend you were, at last, going to Hogwarts.

Let's be real, you've definitely watched the fifty-minute long interview between J.K. Rowling and Daniel Radcliffe. Sometimes you can't fall asleep because you start thinking something along the lines of, "Harry knew all the other Marauders, even Peter, better than he knew his own father" and then you shed a tear or two or fifty.
When you see Tom Felton post on Instagram with Emma Watson or Matthew Lewis or the Phelps twins, you squeal a little and screenshot it and text it to your friends, even if they're not necessarily a Harry Potter fan because you just have to spread the love?!
For you, Harry Potter isn't just a series that you read as a child and loved. It's a series that you read as a teenager and as an adult and one that you know you'll cherish and love for the rest of your life. It's a lifestyle.

At this point, there is no way to describe loving Harry Potter besides it being a part of your identity.
Everyone in your life knows that you love Harry Potter. You're very dedicated to your Hogwarts House, you have all the books on display (let's be honest, you might have multiple copies), you can frequently be found crying over Harry Potter headcanons on Pinterest.
You don't understand why the plot of each Harry Potter book isn't common knowledge and you can pretty much quote the movies. You usually watch them alone because no one can stand you quoting them the whole time. When you see anything Harry Potter-related in a store, you freak out. You own way too much merch, but it's okay, you really do need that shirt and jacket and sweatshirt and mug and calendar, right?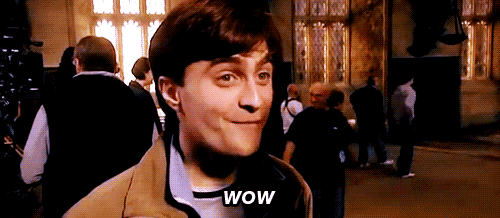 You're a Potterhead for life. Harry Potter has impacted you in more ways than you can imagine. It's more than just childhood nostalgia for you, it's now a part of you.
I have to say, I find myself being at a level 9 or 10 obsession (or should I say, somewhere around 9 and three quarters?) for Harry Potter. Absolutely no one is surprised. I genuinely love this series so much, and I'm seriously never going to stop talking about it! I'm really sorry.
My goal for this post (besides just to have fun and talk about Harry Potter) was to show that there are so many levels of being interested in something, and that they're all valid and you don't have to be either a 1 or a 10- you can be a 4, 6, 8, or anything in between.
I'd say that before I reached my current level of obsession, I've been at almost all these levels before, and until a few years ago I would classify myself as a solid 7 or 8. 😉 Harry Potter will be something I love for life, but I also don't think I'll always be as actively obsessed as I currently am, so my ranking will probably fluctuate at least some time in my life.
I had so much fun writing this post and making the graphics for it because it was just me talking about something I'm really passionate about! I hope you all enjoyed it, and that you're having a magical week.⚡️
I'm dying to know, what level are you at? Has it changed over the years? Could you relate to anything in this post? I'd love to talk and obsess with you in the comments.
Credits for the image used in my featured image >> Photo by Ester Marie Doysabas on Unsplash