I'm back again with the contemporary reviews, spring edition!
So far, 2019 has been a wonderful year of reading contemporaries for me. I mean, it's pretty much all I read. Today I'm back with a new batch of YA contemporaries that I'm going to be doing mini reviews for! Expect lots of squealing and heart eyes. 😉
Of course, these books can be enjoyed any time of the year, I just think they'd be especially amazing during spring or summer…but honestly, it doesn't matter. We all know I'm going to scream about contemporaries no matter what time of the year it is.
Without further ado, on to the reviews!
Title + Author: Just For Clicks, by Kara McDowell
Page Count: 352
Published: 2.19.19
This book was, simply put, adorable.
I loved a lot of things about it. First of all, the main character and her sister were social media influencers and had a Youtube channel, Instagram, etc. It was really cool to read such an up-to-date story that captured a new dilemma presented by all our technological advancements- what if you don't want to be a part of this online life anymore?
I also loved Rafael, the most precious character who didn't have a phone and was basically the epitome of a cheerful, friendly little sunflower. I just love sunflowers. The slow burn romance developed really well, and the main character's slightly dysfunctional (but also loving?) relationship with her mom and sister was interesting to read about, too.
There was a plot twist- and I didn't see it coming. I love being surprised by plot twists?! This book definitely succeeded in that, giving it major points.
Overall, while there were a few things I wasn't in love with (the writing style wasn't my favorite and I was kind of screaming at some of the MC's decisions), I thought this book was super sweet and cute. Definitely good for reading in the spring or summer. 😉
★★★☆☆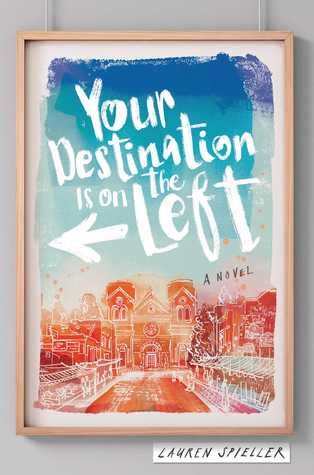 Title + Author: Your Destination is on the Left, by Lauren Spieller
Page Count: 304
Published: 6.26.18
This book is everything I didn't know I ever needed.
For the longest time back when I used to write, I wanted to write a story about a family who traveled the country in an RV. Little did I know that it existed?! It's called Your Destination is on the Left, and well, it's amazing.
I loved the dynamics between the main character, Dessa, and the rest of the families in their caravan, as well as her relationships with Cyrus (the boy next door, literally in the RV next door) and Taryn, a girl who she randomly meets and becomes friends with.
The whole time, Dessa was battling between following her dreams of going to art school or following her parents' wishes. It was interesting because normally in this kind of book, her parents would want her to be a doctor or something, but in this case, they kind of didn't want her to be anything? They just wanted her to stay with them in the caravan, which was kind of weird. Dessa just wants to go out and live her life.
I liked the characters (especially Dessa, Taryn ((who inspires her to be more spontaneous!)), and Dessa's art mentor) and the premise, but it just didn't have that little push that makes it a five star read. I would recommend, though!
★★★★☆
Title + Author: The Other Side of Lost, by Jessi Kirby
Page Count: 320
Published: 8.7.18
If I were to describe this book in two words, I'd have to say it was emotional and empowering.
This was yet another relevant book that suggests the dangers of social media (but doesn't demonize it). The main character, Mari, lived a fake social media life for her thousands of followers, but really it was an act hiding her grief and shame following the death of her cousin.
She ends up hiking the John Muir trail (something she was supposed to do with her cousin) and along the way she makes a new group of friends (yes, there was an amazing squad in this book!!) and ends up learning a lot about herself and about the importance of living in the moment.
The self-discovery in this book was such a strong theme that I really liked!! Mari was honestly a different character from the first page to the last page, and the reader gets to be there for every step of her development.
I did find it a little unrealistic that she managed to hike the trail, seeing as she had no training and people died training for the hike, but I don't know much about hiking?? It just seemed like the pieces fell into place a little too easily there.
I would definitely recommend this book! I really liked its relevance, the topics it addressed, and how it portrayed Mari's journey. I would reread it, though there were a few parts I wasn't the biggest fan of and I didn't feel a huge connection with the main character.
★★★☆☆
Title + Author: Brave Enough, by Kati Gardner
Page Count: 280
Published: 8.21.18
Wow. Just, wow.
This book was so powerful and sweet and inspiring and just!!! The only word that comes to mind when I think about this is wow.
I felt an instant connection with one of the two main characters, Cason, because she's a ballet dancer and so am I. I mean, she was a professional dancer, and I'm decidedly not, but still. Even though Cason didn't dance for most of the novel, since she finds out she has cancer almost right away, I still could relate to her passion and love of dance.
The relationship between Cason and the other main character, Davis (they both have chapters from their perspective) was absolutely my favorite part of this book. They were there for each other, their banter was adorable to read, and, well, I really do love a good friends-to-lovers.
This was the first book that I've read with the main character struggling with an addiction. Davis was sober in the book (it took place after his rehab), but his addiction didn't disappear, and the reader really sees him battling against it. It was very eye-opening to read.
This book was giving me The Fault in Our Stars vibes when I first heard about it, but I was so wrong. It ended up being so uplifting and just!!! I loved it!!
As you could tell, I really did enjoy this book quite a lot. I think there was something just stopping me from going all the way to five stars??
★★★★☆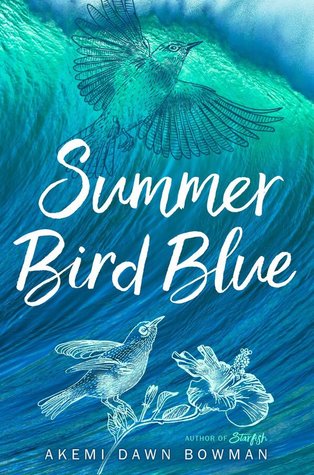 Title + Author: Summer Bird Blue, by Akemi Dawn Bowman
Page Count: 375
Published: 9.11.18
Well, Akemi Dawn Bowman did it again.
I loved Starfish and now I loved Summer Bird Blue. While this wasn't an easy read, it was full of loss and grief, it was so beautiful and yes, I cried, because so many emotions.
Throughout the story, Rumi is dealing with the death of her beloved sister and best friend, as well as struggling with how her mother has left her to deal with on her own. Rumi's grief felt so authentic and I think that's what made this book so emotional.
On top of all of that, the town she moves to in Hawaii (to stay with her aunt) has quite a few interesting characters. There's Kai, the super chill surfer boy who's utterly adorable, and my personal favorite Mr. Watanabe, the grumpy grandpa who's secretly a marshmallow on the inside.
Another aspect I really enjoyed was Rumi's relationship with music. At first, it's like her music has died with her sister, but she slowly brings it back into her life and that just made me so happy. After everything she went through, music was a constant for her.
I already want to read this book again?? Like I said, it just felt so authentic. And to me, authenticity is what makes a book so wonderful.
I'm still crying over this book, and if you read it, you'll probably be crying over it too. Overall, I felt as if it was such a genuine experience that really hits you deep. Please, please read it!
★★★★☆
There you have it, five books to add to your TBR. 😉 (Please add them. You won't regret it, I promise.) These reviews were a little longer than usual, but I just couldn't stop talking about the wonderfulness of all these books!
I hope you're all having a great March and happy almost-first-day of spring to all my friends in the Northern Hemisphere.🌷(Is it fall in the Southern Hemisphere? I think so, but I'm not positive- if so, happy fall to all of y'all.) Thank you for reading!
Have you read any of these? If not, do you want to now? What's the weather like where you live? I'd love to chat with you all in the comments.
Photo by Darren Nunis on Unsplash >> Credits for the image I used in this post's featured image.