One of my biggest misconceptions as a newbie blogger was that I had to spend money to be successful.
Even years after I started blogging, when I decided I was going to start taking it seriously, I constantly questioned whether or not I should be spending money on different parts of my blog- did I need my own domain name? Could I get a better theme if I spent money? How would I ever find fonts and graphics I liked without spending money?
And the biggest question of all: how was I going to be successful without spending money amidst so many other bloggers who did spend money?
I can truthfully say that five years of blogging later (three of those years were ones where I was seriously blogging), I have never spent a cent on my blog. Have I spent huge amounts of time, love, and (at times) tears? Yes, definitely. But never have I spent physical money.
In this post, I'm going to talk about how you can blog without spending money, share some of the resources that have helped me do this through the years, and just overall outline my experience. My hope is that this can help anyone who is on the fence about whether or not they'd like to invest in their blog make the decision for what works best for them. Plus, I would love to hear about the experiences of any other bloggers out there and talk to people who both have and haven't invested financially in their blogs.
As a disclaimer before I get started, I wanted to clarify that this is a chance for me to talk about my personal experiences and help others in my situation, not belittle anyone who does spend money on their blog. I personally see nothing wrong at all with investing in your blog- in fact, I often wish I could, as I'll talk about later.
All right, now let's get into the post!
To start off, I want to talk about my experience as a book blogger. I have a fairly typical story, as far as finding blogging and growing with my blog is concerned, but it really shaped my decision to not invest money in my blog.
I first began blogging about five and a half years ago, and back then, I didn't know anything about design, engagement, interaction, niches…nothing. It was purely for fun, so of course I wasn't thinking about investing money in it. Not that I had any money at the time anyway?
When I started to take blogging more seriously, which probably happened around 2017, I learned all the things that I hadn't known before, and blogging became even more enjoyable because now I was getting a response from people and I loved that.
That's when I realized blogging was something I wanted to do for a long time, and when I started trying to create a blog design I loved and find fonts and graphics and themes, I was worried I wouldn't be able to do it for free. As a high school student (then and now), investing money into my blog just isn't feasible. A lack of money is my reason for not investing in my blog, but some other reasons could be~
Lack of time to dedicate to your blog (would the money spent be worth it?)
If you tend to move from hobby to hobby quickly
Not being super passionate about blogging (maybe you're more into sharing your content on another platform, like Instagram or Twitter)
After coming to the conclusion that I would be blogging without investing any money whatsoever, I had to figure out how to do that. I remember spending tons of time reading articles about free resources to use! I wish I could recall which ones I looked at so I could link them here, but that was so long ago, I couldn't tell you anymore.
It quickly became obvious to me that free!! design!! options!! existed!! And this opened so many doors and is something I hope everyone knows. A few of my favorites that I use all the time include~
Angie Makes– This website isn't entirely full of free graphics, but there is a handy section at the top that says "blog," and if you hover over it you're taken to "freebies"- and the graphics included there are gorgeous and FREE. There are tons of watercolor backgrounds (which I have on my blog), flowers, icons, etc. The thing that's great about these is that you can change the color of them in design websites, so even if it doesn't initially fit with your blog scheme, you can alter it (also for free).
The Hungry Jpeg– This is definitely the spot to go for all your font needs. Yes, there are options that cost money, so it's important to be careful to look at what you're downloading, but there are SO many good and free options too! All the fonts I've used for headers and buttons over the years have been downloaded for free from here. Again, you just go to the freebie section and explore all the options.
This is just an example of the awesome fonts you can find on this website. Sometimes you'll have to sign up for a newsletter or something to unlock a font, but it's beyond worth it to get the free resources.
Unsplash– This is my go-to resource for all the photos I use in my featured images. It's a gigantic library of really awesome photographs (and when I mean huge, I mean endless amounts of professional pictures) and they're all free for downloading and free to be used both for commercial and personal use. I can't recommend this website enough!
Befunky– If you've been designing a blog for a while, you probably remember how sad it was when Picmonkey wasn't free anymore. But don't worry, because Befunky is pretty much the same and it is free! I like it because you don't have to have an account if you don't want to, you can still design and create graphics for your blog.
Canva is another popular design site that's also free, but I prefer Befunky because you're able to upload your own fonts, whereas on Canva you're limited to their font library. I used Befunky to make my header, featured images, and all the graphics used in my posts.
Between these four resources, I've been able to find the proper materials to design my blog and design any graphics I've created for my blog. I'm sure there are tons of other free resources out there (and hopefully I will continue to discover more in the future), but these have really helped me out and I hope they can help you too.
As a side note, it's important to make sure any images you use are free for personal use. That means you can have them on your blog. Some images (like the ones on Unsplash, I believe) are also available for commercial use, meaning you could use them in something you sell. Some freebie sites require or request that you provide credit for whatever you used as well. It's not difficult to find information about these policies, but it is important!
The final thing I want to do in this post is to remind you that you are doing amazing, whether or not you're spending money on your blog.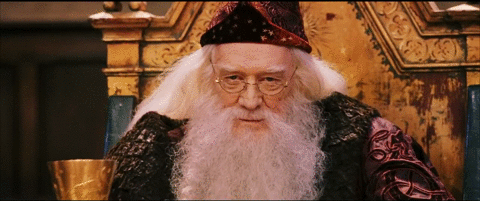 Dumbledore's proud of you and I am too. While I know firsthand choosing not to invest in your blog can sometimes lead to feeling like you can never measure up to those with their own domain name, more customizable theme, or a super pretty blog design, please don't forget that your blog is special, unique, and that free, quality resources do exist.
Investing money doesn't make you more or less of a blogger, and neither does not not investing money. We're all valid, we've all worked hard, and we're all a part of this amazing community.
Someday I hope that I can set aside money to invest in this hobby because I'm truly passionate about it, and I admire those who have. But for now, this is my situation, so I'm going to be grateful for the opportunities that do exist!
Thank you all so much for reading this post! I hope these resources can be helpful, and maybe you're able to relate to my experience. Maybe if someone out there reading this is a new blogger, this helped you realize that you don't have to spend money right away if you don't want to or aren't able to.
I might want to do a pro vs. con post on this topic in the future, potentially? I'm not sure if that would be too repetitve, so possibly not. Let me know if you think that would be helpful or if you'd enjoy reading it! It would also be interesting to get thoughts from a lot of different bloggers about this topic (would anyone want to do that?) to compile in a post.
Wishing you all a great week! I hope 2020 has been treating you well so far. (Personally, I've been drowning a little bit due to school, but I know there's light at the end of the tunnel. When spring break comes around.) Have a very happy Monday, friends!✨
What are your thoughts on this? Do you have any free resources that have helped you? What's your experience? I'd love to talk with you in the comments.
Photo by Katie Harp on Unsplash