2018 was the best reading year I've had in a very long time.
I discovered so many books that have become some of my all-time favorites, and I also constantly read new books instead of only rereading (who am I?). What with 2018 drawing to a close, I thought it was the perfect time to talk about the 10 best books I read this year.
Before I get started, I wanted to wish you all a very happy holiday season. If you celebrate Christmas, I hope you had a lovely holiday with your family and friends, and if you don't, then I hope you're having an amazing week or celebration of another holiday!
Now, on to the list. I didn't include rereads in this, and even with those taken out, it was incredibly hard to narrow down the top 10 books I read- especially once I got down to the last few. I've already talked about most of these on my blog before, so I'll be providing insight on why I enjoyed them, rather than a full review.
Without more of my rambling, let's get started!
10. Everything Leads to You, by Nina LaCour

From the cover to the characters to the setting, I loved everything about this book.
You can read my original review here to see my full thoughts, but I think what made this book stand out among all the others I read was the unique setting and specific details regarding the movie sets the main character worked on. It was a world I'd never been introduced to before, and it intrigued me.
Oh, and there is an adorable romance that I ship with all my heart. 😉
9. Foolish Hearts, by Emma Mills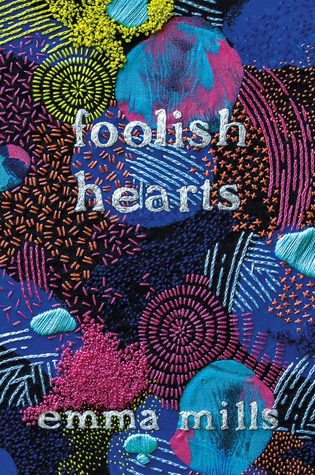 I just finished this book, so I haven't had the chance yet to scream about it on my blog, but please take this as a forewarning- the screaming is most definitely coming. XD I will forever be talking about the adorable-ness of Foolish Hearts, and it very much deserves to be on my favorites list.
8. This is How it Happened, by Paula Stokes
I utterly adore this book.
I first talked about it in one of my mini review posts, and one of the reasons why I enjoyed this book so much is that it dealt with relevant, current topics. There was a lot Internet and social media shaming, and in this day and age, it's really important to be educated on how dangerous the Internet can be, and how it can completely ruin someone's life.
Not only was it educational in that aspect, it was just a great book in general. I think it's overdue for a reread by now. 😉
7. My Lady Jane, by Cynthia Hand, Brodi Ashton, & Jodi Meadows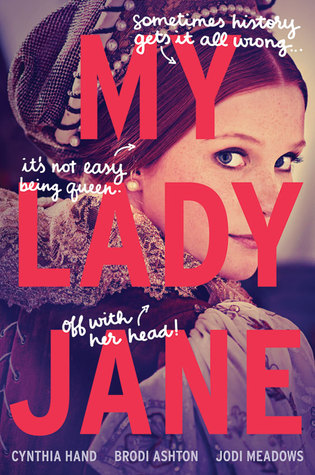 This is another book that I just finished, meaning there isn't a blog post about it yet- but trust me, there most definitely will be. XD
This book was hilarious, heartwarming, adorable, sweet, entertaining- all the above, okay? I can't recommend it enough, and I'm very excited to blog more about it in the coming months.
6. They Both Die at the End, by Adam Silvera
Remember when I had a fully intact heart?
Oh wait, yes, I do recall. It was before I read this book and Adam Silvera broke my heart into a thousand million tiny little pieces.
That being said, I loved everything about this book (as you can see in my review of it!). It was an emotional rollercoaster, I adored the characters, I loved how it was a fantasy but read like a contemporary, and it was just overall amazing.
Don't let my screeching scare you off- it's so worth the read!
5. Summer of Salt, by Katrina Leno

If you want a magical realism book that you can learn (very quickly) to adore, this is the book for you.
Sister relationships! Magic! Friendship! Important issues addressed! And did I mention magic!
I already want to reread this book, and I loved being immersed into this story.
4. The Raven Boys, by Maggie Stiefvater
When a contemporary-obsessed girl like me goes looking for something new to read, she doesn't expect to come across a fantasy series that she's interested in. Furthermore, she doesn't expect to become completely enthralled with said fantasy series and end up loving up so much that it makes it onto her "Best Books of 2018" list.
However, that is just what happened with the Raven Cycle.
I instantly fell in love with the unique cast of characters (hi, I'm in love with Gansey) (and also Ronan) (plus Adam) (and Noah is my child) (can Blue please be my sister), and despite the fact that I never fully understood all their adventures, it didn't matter.
This series is one of my new favorites, and I will gladly scream about it at any time with anyone. *thumbs up*
3. The Last Summer of the Garrett Girls, by Jessica Spotswood
I think I've mentioned this book about a thousand times, but shhh, it definitely deserves all the hype. 😉
Before reading The Last Summer of the Garrett Girls, I didn't know a book with sister relationships, pop culture references, representation, small town vibes, and sailing ships (metaphorically speaking) existed- but guess what? It does.
This book is one of two books that I read for the first time in 2018 and also reread later in 2018, and I think that speaks for its great quality on its own!
2. Darius the Great is Not Okay, by Adib Khorram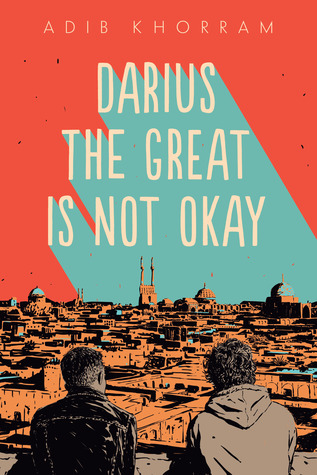 This book. THIS BOOK.
I already spent a lot of time talking about it in my recent mini reviews post, but I'm not finished screaming about it yet.
The characters, the setting, the rich Persian culture- I was completely immersed, and I can't wait to reread this book in 2019 and in years beyond.
1. A List of Cages, by Robin Roe
The best book I read this year. The number one on all my lists. My new favorite book, and a book that I hope to read and reread in years to come. A List of Cages!
I wrote a whole review on it months ago, but to recap, it was well-written, had the best cast of characters, amazing platonic relationships (with practically-siblings!!), and it was an incredibly moving and powerful story. Needless to say, I loved it, and it was the best book I read in all of 2018.
That concludes my list of the top ten books I read this year! I hope this post could give you some recommendations, if you haven't read any of these, or maybe it just reinforced your opinions of these books, too. 😉
Also, I'm so sorry that post isn't on my schedule- I was planning to continue to stick to it, but with the holidays happening this past week, I got busy and wasn't able to post this until now. I'll be back on Monday though, with a regular post that's on schedule!
What are the best books you read this year? Do you agree with any of mine? I'd love to chat with you all in the comments.