Half the time you can catch me obsessing over contemporaries.
And today, in a shocking turn of events, I will be obsessing over one of my favorite contemporary YA novels, The Last Summer of the Garrett Girls. I've been talking about this book a lot over the past few months, and in this post I'm going to be reviewing it and also sharing an interview with the author, Jessica Spotswood.
I first read this book back in July, and that's when I originally wrote this review, but due to the logistics of everything, it's just now getting to see the light. I'm so excited to finally be sharing all my thoughts, and doubly excited that I had the opportunity to interview the author for this post.
Without further ado, let's get started. 😉
Author: Jessica Spotswood   Page Count: 320   Goodreads
"One summer will challenge everything the Garrett sisters thought they knew about themselves—and each other.

Kat lands the lead in the community theater's summer play, but the drama spills offstage when her ex and his new girlfriend are cast too. Can she get revenge by staging a new romance of her own?

Bea and her boyfriend are heading off to college together in the fall, just like they planned when they started dating. But Bea isn't sure she wants the same things as when she was thirteen…

Vi has a crush on the girl next door. It makes her happy and nervous, but Cece has a boyfriend…so it's not like her feelings could ever be reciprocated, right?

As the oldest, Des shoulders a lot of responsibility for her family and their independent bookstore. Except it's hard to dream big when she's so busy taking care of everyone else." -Goodreads Blurb
I truly can't think of a better book to spend your time reading. Yes, I say this for most of the books I love, but shhhh.
This book has my heart, and was pretty much absolute perfection. I'll probably be recommending it to people for the rest of my life? Oh, and standing at the library yelling at people to check it out, too.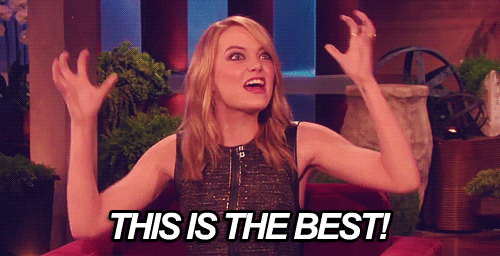 Here are a few of my favorite things about The Last Summer of the Garrett Girls:
The sister relationships. All the relationships between the sisters were so adorable? And real? And did I mention I love them?
The diversity. God bless contemporaries for giving us diverse casts of characters. So much representation and diversity in this book, and I loved it!
The pop culture references. Since this is a modern book, they made actual modern day references and I'm living for it. Hamilton was mentioned multiple times and I'm still over here crying.
The feminism. Okay but all the sisters had shirts with feminist sayings on them! (I don't know what to call them, but for example, 'girls just wanna have fun(damental rights).' AND I LOVED IT DEARLY.
The romances. I'm still squealing with joy because the ships were my absolute favorite ever! And they sailed!
Nina LaCour was mentioned! The author put in references to Nina LaCour and her books and I was just over here like I know her. Anddd now I'm singing Hamilton.
Overall, I loved the vibe of the book. It was very laid back and relaxed and summery, but it wasn't as if the book was happy-go-lucky and filled with rainbows and unicorns.
I also loved getting to know each individual sister. Each sister had multiple chapters from their perspective, and each of their voices were unique and interesting to read. I never got confused on what sister's chapter I was reading.
Even though I didn't love all the decisions they made, they were definitely flawed characters, and I appreciate that in a YA novel. I'd have to say my favorite was Vi, the youngest sister. But I loved them all, honestly.
If you couldn't tell by my raving, this book is the absolute epitome of amazing YA contemporary. 😉 It has diversity, pop culture references, family dynamics, and is incredibly heart-warming.
After reading The Last Summer of the Garrett Girls back in July, I immediately emailed the author, Jessica Spotswood, because I just had to tell her how much I enjoyed her book. 😉 She was so kind as to agree to do a quick interview for my blog, and I'm so excited about that.
About Jessica Spotswood
Jessica Spotswood is the author of the historical fantasy trilogy The Cahill Witch Chronicles and the contemporary novels Wild Swans and The Last Summer of the Garrett Girls. She is the editor of the feminist anthologies A Tyranny of Petticoats: 15 Stories of Belles, Bank Robbers, & Other Badass Girls and The Radical Element: 12 Stories of Daredevils, Debutantes, & Other Dauntless Girls and co-editor of Toil & Trouble: 15 Tales of Women & Witchcraft. Jess lives in Washington, DC, where she works for the DC Public Library as a children's library associate. She is a feminist, a Hufflepuff, and an INFJ. (full bio here, site here)
All right, on to the interview! (Also, allow me a small scream over the fact that we are both feminists, Hufflepuffs, and INFJs. *squeals*)
Which of the Garrett sisters are you most like?
I put parts of myself into each of the four Garrett girls – and also gave them attributes I wish I had! Des has my love of planners, my oldest-sister bossiness, and my fears of being a boring nerd. Bea has my perfectionism and anxiety and love of a good to-do list and being near water. Kat has my love of theater and cats and my sense of loyalty. Vi has my love of reading and writing, and of the Riverdale and The 100 fandoms!
I love how there's a piece of you in all of them. What originally inspired you to write this book?
I couldn't get the voice right for the next book I had planned to write. So, to brainstorm a new project, I made a list of plot elements and tropes that I love in books and tv. Some of the things that were on my list that made it into the final book were an independent bookstore, fake-dating, grandmas, high school theater, sisters, a cat cafe, toxic friendships, a crush on the girl next door, houseboats, small towns with weird traditions, and nosy neighbors…
Wow, that's such a great way to brainstorm and of course, I'm so happy The Last Summer of the Garrett Girls was born from that. What's the typical day in your life as an author?
I also work part-time as a children's library associate for the DC Public Library, so I usually write at the Starbucks in my neighborhood before I go to work at 3 to handle the after-school crowd, or on my days off. I like to have a venti green iced tea, headphones playing my Brainwaves app (which plays white noise and binaural series that are supposed to help your brain be creative!), and my Forest timer set on my phone (which is another app that prevents me from checking social media while I write, or it'll kill my little cartoon trees!). When I'm on deadline, I also write very late at night at my dining room table.
Libraries! *cheers* I loved the Hamilton mentions…are you a Hamilton fan? 😉
I am! My husband and I saw it on Broadway for our 10th anniversary but I will be forever sad that we missed the original cast. I have a huge crush on Lin-Manuel Miranda.
Ahh, that's amazing. And lastly, what gave you inspiration for Remington Hollow, the town the sisters live in?
I grew up in a super small (we're talking one stoplight-small) town. My parents had both gone to my high school, and had some of the same teachers, and my grandfather had been a football coach, and everyone knew everyone else and their families and people made assumptions based on your last name. I wanted to explore the weight of those kind of small-town expectations. But I set it on the Eastern Shore of Maryland because that's where I went to college. I borrowed heavily from my college town (Chestertown, MD) which actually has an annual homemade raft race across the river!
Thank you so much to the lovely Jessica Spotswood for this interview! Since I loved her book so much, it made me so incredibly happy that she took the time to respond and ahh, she's just the best.☺️
I hope you all enjoyed this review and interview and maybe (just maybe?) I have convinced you to read The Last Summer of the Garrett Girls– I promise you won't regret it, and it's likely you'll become just as obsessed as me.
Have you read The Last Summer of the Garrett Girls, or do you want to? Also, do you like emailing authors after you read their book and loved it? I'd love to chat with you all in the comments.
P.S. I have a bonus post coming on Friday and I'm super excited about it. :))
P.P.S. I'm behind on reading posts again, which I am not so excited about. But I'll catch up eventually!