It's so easy for me to only think negatively about school.
After all, at first glance, there's a lot to complain about. Homework, studying, exams, a lack of free time- these are things I often find myself dreading these things and generally wishing they would fall into a black hole. Or a Vanishing Cabinet and end up far, far away. But today I'm focusing on the positive aspects of school!
I think it's very important to go into things you're feeling worried or stressed for with a positive outlook. At least in my experience, if I'm dreading something and I consistently think about or talk about the negative aspects of it, then I start to dread it even more. The only way for me to escape this vicious cycle is to be optimistic!
That's why when Annie reached out to me and Abigail and asked us if we'd be interested in collabing with her to talk about the things we loved about school, I got so excited. Not only would I be able to work with fellow bloggers I admire, but I could spread some school-related positivity to myself and hopefully to others as well.
Each of us are talking on our blogs about things we love about school (we wrote all our lists independently, but there might be some overlap) and the posts came out in a sort of marathon, with both of them posting in the last two days.
Please make sure to go check out Annie's post and Abigail's post! They're both such wonderful bloggers and people, and it was an honor to work with them on this. Also, Abigail made the graphic for us, and it's amazing! And now, without further ado, let's get into the things I love about school!
The first, frequently overlooked but incredibly important, reason school is important to me is because I know my education is such a privilege.
Not only am I lucky to live in a day and age where, as a woman, I am able to attend school and in the future, a university, but I am also immeasurably lucky to even have access to any education at all.
Education isn't a guarantee for everyone. For some people, it isn't an option at all. I will never stop being grateful for the education that has been available to me, and I hope to do everything in my power throughout my lifetime to help make sure more and more people in the world are given this same opportunity.
Another thing I love about school are teachers who genuinely care. Growing up with both my parents as teachers, I learned to appreciate and value teachers from an early age, because their job most definitely isn't easy.
I've had teachers that are so passionate about their subject, and it made me passionate about the subject too! I've also had teachers that connect to their students and care more about them as people than about their grades, and it's really amazing when teachers are like that.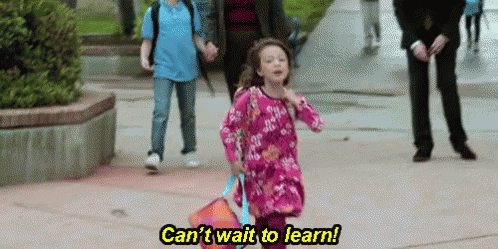 This is footage of me running towards my biology class this last year because my teacher made all the classes so fun and she truly cared about us all! Her lectures were riveting and she loved biology so much. Now I love biology!!
I think we can all agree that the teacher can make or break the learning experience, and I love when I have teachers that enhance my learning and are just great people.
I also love that school has helped me develop a love for learning. I've loved learning for as long as I can remember and I don't think that's going to change anytime soon.
Loving learning doesn't mean that I'm always going to be excited for a school day, that I'm going to look forward to my homework or to studying, but it does mean that I have a thirst for knowledge and that I enjoy learning new things and becoming more educated about the world around me.
I have school to thank for this! And also my parents, because like I said, they're both teachers and had a hand in instilling this in me. This love for learning has been with me since I was in elementary school, back when school was more relaxed and was more about learning than anything else.
Now that I'm in high school, and school is more about getting AP credit and keeping up my GPA and getting into college, my love of learning that was developed early on has kept me going. Otherwise, I think I would have stopped trying a long time ago.
School has also helped me learn to balance my life, and while I kind of hate it for making me balance so much, I also know this is a vital skill and so I have to love it for teaching me this.
Me trying to balance school, dance, blogging, reading, and my life in general pretty much results in me doing some kind of odd catching-my-balance dance like in the gif below.
But!! I'm getting better and better at balancing every year, and I'm really thankful that I'm learning how to balance now instead of later in life. I know this will end up being really helpful in future years- whether that's at college or in the real world.
It's always going to be important to balance your life, and I love school for making sure I'm experienced at this before it's do-or-die.
Also, Xandra recently wrote a really great post about balancing blogging and school! I'm linking it here because I think it has some really great tips for juggling the two, and I know a lot of y'all are also school age and could hopefully benefit from her advice.
The fifth and final reason I love school is a little lighter and more simple, but it is because I get to spend time with my friends and meet new people!
For me, the best parts of my school day are always spent with friends. Whether we have a class together and are partnering up for a project, we're spending study hall studying or not studying together, or eating lunch and debriefing about our days, seeing my friends is awesome.
I've met almost all of my best friends from being in school with them at one point or another (my best friend and I met in second grade, and one of my other best friends and I met in sixth!) and now I don't know what I would do without their friendships.
All I have to say is, thank you school, for introducing me to my best friends and for giving me an opportunity to (mostly) see them every day.
There we have it, a list of things I love about school!
As a disclaimer, this post is not meant to downsize or belittle any negative aspects of school. By sharing the positive aspects, I'm not saying there aren't negative aspects or saying that those aren't valid. This post is merely meant to shine light on the positive parts of school and to provide an optimistic mindset!
If you're also going back to school soon (or if you already have), I hope this post could give you some motivation to keep pushing through. You got this and I believe in you! ❤
Thank you again to Annie and Abigail for making this happen! If anyone else wants to participate in this blog tour of sorts and post about what they love about school, please do, and I know we'd all love to read your post.
The last thing before I stop rambling is quick reminder that I do have a blog survey on my last post, and if you'd like to take it I would be eternally grateful! But seriously, please no pressure. I hope you all have a wonderful week!
Have you gone back to school yet? If so, how is it going so far? How do you stay positive during the school year? I'd love to talk with you in the comments.