So. It's no secret that I'm obsessed with Harry Potter.
And if you didn't know that yet- hi, I'm Olivia and my letter to Hogwarts got lost in the mail. I usually can't go more than a few blog posts without mentioning Harry Potter one or two or twenty times. I've read the books and seen the movies more times than I can count, and my Harry Potter Pinterest board has 305 pins on it.
In short, I'm obsessed.
Recently, I decided it was time for another Harry Potter reread. I went through the books, and while I still absolutely love them and the magic hasn't left at all, I noticed some of my opinions have changed about the book as I got older.
Today I'm going to be talking about a few random thoughts I had, as well as my one major problem with Harry Potter (that I hadn't really noticed until this reread). Let's get started! 🙂
Oh, and a quick side note. Read on if you want, but I will warn you of spoilers ahead! I will be discussing parts from various books and I wouldn't want anything to ruin the magic of reading them for the first time if you haven't yet.
I first read the Harry Potter books when I was eight, which seemed really old at the time but looking back, seems pretty young. How did I handle all the loss, oh my goodness.
As you can imagine, it was really different to read it now compared to when I was eight (though I've read it many times in between). I noticed a lot of things that never really clicked into place before! Some of my realizations were kind of funny, and others were much more…sirius. Please tell me someone sees what I did there.
All right, let's get into it. Before I make more bad Harry Potter puns. XD
First off, I realized how clueless Harry is with girls. This is definitely one of my lighter realizations, but it's so true and pretty hilarious! In The Goblet of Fire and The Order of the Phoenix, when he likes Cho, he literally is the most clueless human being ever.
He may the chosen one, but that doesn't give him any advantage with talking to girls. It was just so great, funny, and relatable to see him have this flaw. I loved how J.K. Rowling made him just like any other teenage boy in this regard.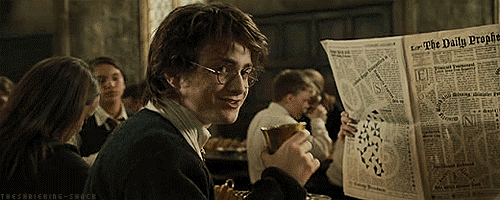 This is such an iconic moment in the movies…I can't remember if it actually happened in the books? But I do know the books had so much more of his awkwardness. XD
Next, I really came to appreciate Molly Weasley. I used to only see her as just Ron's mom, the nice lady who always made them food and had Harry over to stay at holidays.
Molly Weasley is so much more than that.
She's the only mother figure in Harry's life. Yes, he (eventually) has Sirius and Lupin, and he even has Dumbledore, but Molly is the only mom in his life. She takes care of him like he is her own child, and that's just amazing. Like when she came to see him before the last part of the Triwizard tournament?? And sent him Christmas presents and Easter eggs and everything?? I love her. Also, we can never forget when Bellatrix tried to kill Ginny and Molly Weasley dominated.
Everything about the Horcruxes and Deathly Hallows finally made sense to me. I think this was the first time that I fully understand how Harry was the master of death and how the Elder Wand answered to him, and all that confusing stuff that they attempted to explain in the one all-white King's Cross scene. *deep breath*
Anyway. It felt good to finally 100% understand everything, after so many years of only half-getting it.
I also realized that I really hate Severus Snape.
I know this is such a controversial topic! Don't come for me. I have reasons. I don't hate Snape because I think he's evil. I don't think he is an evil character. He was, after all, risking his life every single day to work for good.
He manipulated Voldemort. He lied to Voldemort. He lied right to the face of the most powerful dark wizard of all time! He lied to the most powerful dark wizard of all time who can tell when people are lying to you! That takes bravery, strength, and to me, proves that he is quote unquote "good."
But. I still hate him.
He was a horrible teacher and a cruel person. He abused his students. He was Neville's worst nightmare. He openly taunted his students. He had favoritism towards Slytherins. He blamed Harry for James Potter's actions. He never got to know Harry for who he really is because all he could see in him was his father. He was jealous and possessive over a girl who never saw him as more than a friend. He got Lupin fired because of something that happened years ago. He was not nice.
Okay, maybe I shed a few tears whenever I think of, "After all this time? Always." I do think Snape deserves recognition and praise for how he put everything on the line to fight against evil.
But I don't like him as a person. He was abusive and cruel, and I don't know why it took me so long to realize how much I loathe him.
And I definitely can imagine James, Sirius, and Lupin completely screaming at Harry in the afterlife for naming one of his children after Snape. I KNOW WHY, but still. Albus Remus, anyone?!
I realized how truly young Harry, Ron, and Hermione were. When I was eight, they seemed so old to me. I didn't think about how amazing it was that they accomplished all that they did, because they were practically adults in my eyes.
Looking back, now that I'm the age they were in the later books, I have so much more appreciation for all they did! Y'all. Harry was fourteen when he saw Voldemort return, fifteen when they went to the ministry, seventeen when he, Hermione, and Ron quit school to save the wizarding world.
It just goes to show that age isn't everything. 😉 "Fame…isn't…everything, Mr. Potter."
Finally, and most importantly, I realized a huge problem I have with the Harry Potter series. I know, we're all shocked that I have a complaint.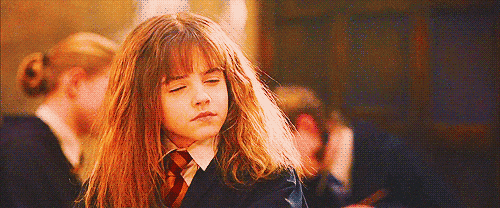 But for real, I am really disappointed in this series for failing to include one thing that is extremely important and a part of every day life- so why isn't it a part of this iconic series? What I'm talking about is the lack of diversity.
It just doesn't make sense to me that in a school full of children and teenagers, there wouldn't be more diversity mentioned. They never talk about religious diversity, racial diversity, or identify any characters as LGBTQ+. Dumbledore doesn't count because they didn't talk about that in the book.
It just makes me sad that a lot of people don't get to see themselves represented in Harry Potter. It would have been such a great opportunity for young kids to see themselves in a book they love. I wish that was different.
Also, a very valid point is that these books were published in the late 1990s to the early 2000s, when diversity in books wasn't included as much. So it makes sense that Harry Potter wouldn't have any and is typical of the time, but still disappointing nonetheless.
Those are just a few of the realizations and thoughts I had while rereading Harry Potter! I could keep going on and on, but this post is getting long and if you made it this far, wow, you're amazing. XD
This post was honestly so fun to write. I have so much passion for these books, and the words just kept coming and coming (hence the length of this post!). Even though I am very disappointed in the lack of diversity, I know I will always love and cherish Harry Potter!
Here's to hoping that they never lose their magic, and Hogwarts always feels like a second home to me and to all of you, too.⚡️
What are your thoughts on everything I talked about? Do you like Snape? Have you noticed the lack of diversity? Do you love Molly Weasley? I'd love to chat with you in the comments.
Photo by Troy Jarrell on Unsplash >> Credits for the photo I used on my featured image, many thanks to the amazing photographer!